Pierce Brosnan Gets Candid About Women, Aging, Loss, Love, and The Evolution of His Career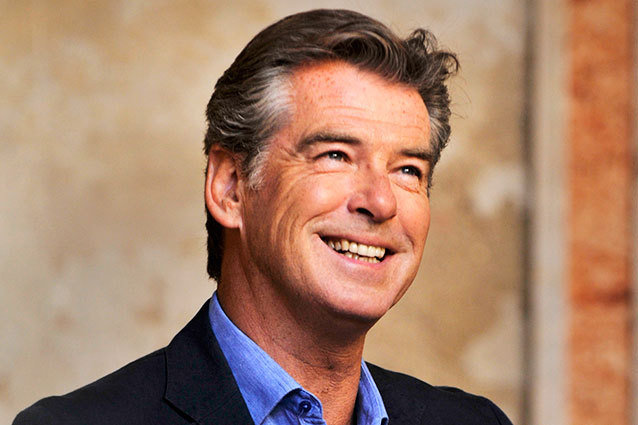 Pierce Brosnan hasn't stepped into James Bond's shoes for over a decade, but you wouldn't know it when you meet him. The Irish actor — who turns 60 this month, but doesn't seem to age — seems to be carrying on the suave legacy of Bond. Especially when it comes to his affinity and appreciation for women. 
Hollywood.com caught up with Brosnan to discuss his latest film Love Is All You Need and when it came to the subject of his co-star, Danish actress Trine Dyrholm (whom Brosnan says has "the Meryl Streep touch" to her craft), he put it simply: "I've been blessed with all the leading ladies I've been with, they've all been rather gorgeous and beautiful and I love women." When it came to the subject of his Oscar-winning director Susanne Bier, he put it simply: "I've worked with some great directors from Barbra Streisand to Susanne Bier to when I did Remington Steele, there were some fine lady directors on that show. I love working with women. I love women. There's just an ease and a grace." Brosnan. Pierce Brosnan. 
But, it wasn't just his fondness for working with talented females like Dyrholm and Bier that drew him to a project like Love Is All You Need.  The film a glossy but heartfelt romantic drama about a hairdresser named Ida (played by the vivacious Dyrholm who gets naked, literally and metaphorically), a cancer survivor whose husband has been cheating on her, and Philip (Brosnan, in what Bier describes as "one of his most touching performances"), a hard-working businessman and widower. Philip and Ida meet at their respective children's nuptials at a picturesque French villa and the two begin fall in love. "It goes right up there on the shelf with, dare I say, Mamma Mia," Brosnan says of the film, which taps into similar theme of finding yourself — and, of course, love —at any age. 
Another one of the film's emotional cores — dealing with a devastating loss — is one that hits especially close for Brosnan. In 1991, Brosnan lost his first wife Cassandra Harris to ovarian cancer. They had one son together, Sean, as well as her children from a previous marriage Charlotte and Christopher. (Brosnan remarried in 2001 to his wife Keely Shaye Smith, with whom he has two sons with, Dylan and Paris). "All of that life pain that I went through — somewhat publicly, somewhat privately — is in the past but I can certainly identify and draw upon it," he says of playing a part like Love Is All You Need's Philip, a man who is still dealing with his pain. 
"This character and this movie and this script found me at the right time in my life to be able to sit still and explore my own tragedies, my own pain, my own loss, what it's like to be a single parent," Brosnan continues. "In the hands of Susanne Bier, you surrender to that and allow yourself to go there. It just made sense. Her style of direction is very quiet and specific, strongly so at times. But there's great liberation in there because of the cinematic style that she uses. There were many emblems within the story: fatherhood, being a widower, being a single parent, a man of business, being alone, being middle-aged, dealing with time, time past, time present, time future." 
And time, it seems, has since been kind to Brosnan. Not just in terms of his rugged good looks, but finding peace and comfort within himself and his career. "I painted myself into a corner sometimes I feel with the style of performance I'd given or the kind of actor I was trying to create when I came to America with Remington Steele," Brosnan admits. "As you get older there's a loosening of the ties to the ego and the posturing of who you are and how you behave. There's an ease within my own being now and there's a confidence, simple as that really, with performing… there's a great joy in being an older actor now. You have to adapt to your age and your years. It's nothing but humble gratitude of having come down the road so far." 
Then again, it's hard not to be humbled with gratitude when you have labor of love projects like the big screen adaptation of Nick Hornby's A Long Way Down (in which he stars alongside Aaron Paul, Toni Collette, and Imogen Poots, whom he refers to as "The Quartet…we were joined at the hip") and, of course, Love Is All You Need. Love, being the key word.
"It all melded together from day one," Brosnan recalls, adding, "[my cast and director] embraced me with such a warmth and generosity and I, in return, did the same and we just hit the ground running. The experience of filming on a day-to-day basis was nothing but joy. It's criminal how much fun we had.  It was a magical summer." Who knew Bond was such a softie? 
Love Is All You Need opens in limited release on May 3. 
Follow Aly on Twitter @AlySemigran
More: 
'Love Is All You Need' Director Susanne Bier: 'It's Kind of Disgraceful There Aren't More Female Directors 
'Love Is All You Need' Trailer — WATCH 
10 Actors Who Almost Played James Bond