Tina Fey Joins 'The Muppets' Sequel — A Look Back at Her Muppety Past
Since you were just complaining how you never get to experience multiple things you love at the same time (don't deny it… we can hear you), we've got some news to cheer you up. No, it's not the long awaited melding of ping pong and Dance Dance Revolution, but it is in its own right exciting and worthy of a dance party. Tina Fey, that person you love, will be joining the sequel of The Muppets, that 2011 movie you loved. Go ahead, rejoice. Just keep it to a reasonable volume, please.
Reps for Fey have confirmed that the actress is coming on board as the female lead, who is described inscrutably as a "Russian gulag prison guard." Quite a leap from Fey's usual neurotic, put-upon showrunner shtick… but then again, the Muppets already have one of those. Her casting would pit her opposite Ricky Gervais — her The Invention of Lying costar from whom she takes the Golden Globes torch this year — as well as Ty Burrell and, of course, a whole bunch of Muppets.
But this will not be Fey's first foray into the world of Muppetry. Although she'll be exhibiting her human form in the Jim Henson franchise feature, Fey (or at least, a Fey likeness) has donned the bobbling eyes and melon-shaped mouth on two previous occasions…
Once, on an episode of 30 Rock, as seen through the whimsical perspective of NBC page Kenneth:
And once, on an episode of Sesame Street, parodying her 30 Rock character Liz Lemon:
Seems like she'll be right at home… just as long as something like this doesn't happen again…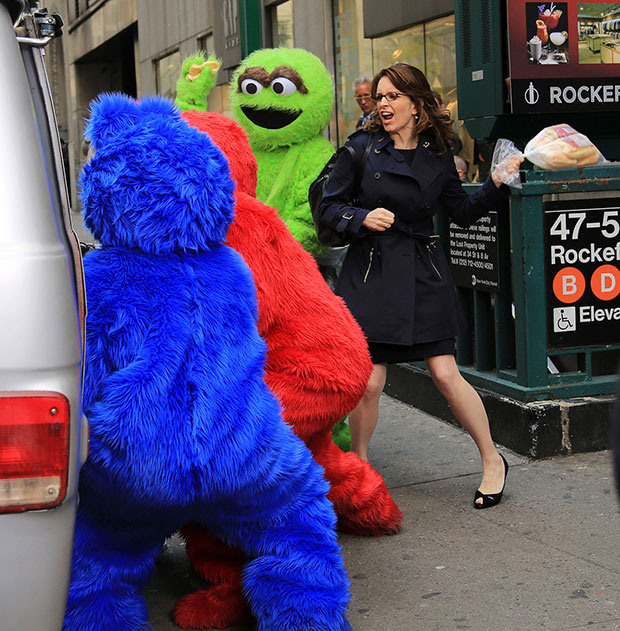 [Photo Credit: NBC]
More:
Pixar Creates the Most Adorable Umbrella of All Time in New Short Film — VIDEO
Golden Globes: Amy Poehler and Tina Fey Predict Daniel Day-Lewis Win for 'Avatar'
Amy Poehler and Tina Fey's Glorious Golden Globes Photo

Megan Fox's 12 Hottest Moments (Moviefone)

Ryan Gosling's 'Airbrushed' Abs: Plus 19 More Reasons We Love the Actor (Moviefone)