It's Too Soon To Make a Bowe Bergdahl Movie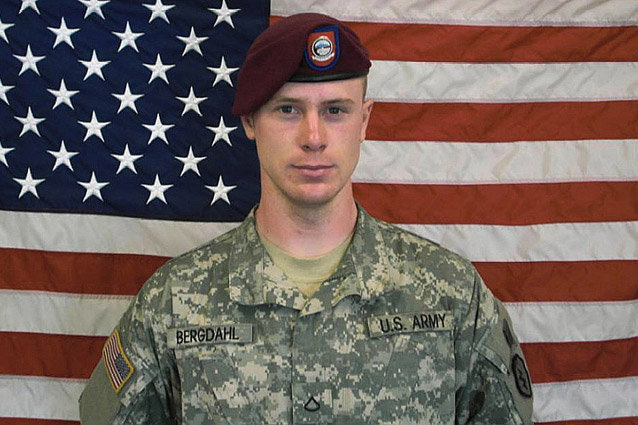 Getty Images/U.S. Army
It's not shocking that the media frenzy surrounding Bowe Bergdahl, the U.S. Army Soldier who was controversially traded for five Guantanamo Bay prisoners after spending five years as a prisoner of the Taliban, release is still going strong. But it is somewhat of a surprise that just three weeks after he was freed, two separate films have already been launched about his story, one by Zero Dark Thirty helmer Kathryn Bigelow and the other by relative newcomer Todd Field. According to the Hollywood Reporter, the former will center her film on the events leading up to his extraction from the Taliban, while the latter has optioned the Rolling Stone article, "America's Last Prisoner of War," as the inspiration for the project. 
But while the conversation regarding these projects seems to be centered on whether Bigelow or Field will finish their film first (or whose final product will be better, or who will finally option the rights to Berdgdahl's life), one fact is continually overlooked. Namely, that it is way too soon for Hollywood to make a movie about Bergdahl and his release. There's no denying that his story has all of the makings of a great film, and both Bigelow and Field will likely do an excellent job with the material, but now is not the time for that film to be made.
Though there are countless articles, opinion pieces, comments and exposes available about Bergdahl's time in the Army and his rescue from the Taliban, very little of those contain any actual facts about the case, because there simply aren't very many available. Most of the Army's investigations and findings are classified, and they haven't released much to the media other than general statements. Almost everything that is known about Bergdahl's case is conjecture, which means that there is very little objective truth for Bigelow and Field to base their films on.
Basing a film primarily on conjecture and evidence that has been pieced together by the media will result in a movie that is heavily biased, no matter which way it leans. Admittedly, all films are biased in some way, but Bergdahl is such a controversial figure that whatever the films' biases are, they will be used by the media to support or refute any points they want to make, which will color the public's consciousness towards the situation, and make it more difficult for the truth to come out. And since the government and the Army are still looking into the circumstances that surrounded Bergdahl's release, those perceptions could impact the outcome of those investigations. Whatever impact these projects have on the public consciousness could help sway the decision in Bergdahl's case, rather than allowing the objective facts to decide.
In addition to the public implications that Bigelow and Field's films could have, making them now is just insensitive. Bergdahl hasn't even been out of captivity for a month, and already Hollywood is attempting to capitalize on his story. He has yet to return to his home and his family – he hasn't even returned to the United States at all yet – and already directors are circling to try and profit off of him. No matter your personal feelings on Bergdahl or his actions, the fact remains that he should be allowed to recover from a traumatic experience before people attempt to turn those experiences into other people's entertainment. At the very least, consider his family and loved ones, who deserve the right to spend some time with Begdahl and celebrate his return home before they have to work through their feelings about the films.
We're not saying that a film should never be made about Bergdahl; we're just saying that it doesn't need to be made now. Hollywood should wait until we, as a nation, have some perspective about the situation, or at least until the 24-hour news cycle has found something else to focus on. Wait until the ongoing investigation has concluded, wait until we have some answers to support the media's endless theories, or even just wait until Bergdahl arrives back on American soil. It doesn't matter when the film finally does get made, as long as it's not right now.