Courteney Cox as Rachel?: The Surprising History of 'Friends'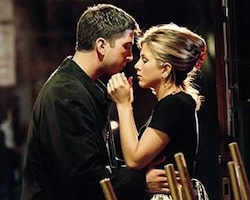 It may be hard to believe, but you almost spent 10 years watching a show called Six of One featuring Courteney Cox as Rachel. Warren Littlefield, the former president of NBC Entertainment, has written the book Top of the Rock: Inside the Rise and Fall of Must See TV, and in an excerpt published in the May issue of Vanity Fair, he shares the history of how Matt LeBlanc, Jennifer Aniston, Courteney Cox, David Schwimmer, Matthew Perry, and Lisa Kudrow wound up meeting for coffee at Central Perk on a weekly basis.
Friends co-creator Marta Kauffman reveals that casting the iconic roles wasn't easy. "We saw a countless number of actors," she says. Among the first was Matthew Perry, who auditioned for the role of Chandler. Though it was obvious that he was a great fit for the part, he had already committed to doing the pilot LAX 2194. (Someone at FOX thought a time travel show would be more exciting if it focused on airport baggage handlers). Kauffman thought the role of Chandler would be the easiest to cast because, "It's got the most joke jokes. It's sarcastic and kind of quippy," however, "No one could do it. No one." Shockingly, FOX didn't pick up the luggage-themed pilot, and Perry was free to take the role.
We also came dangerously close to living in a "Rachel cut," Braniston-free world. The role of Rachel was originally offered to Courteney Cox, but she asked to do Monica instead. That required a big character rewrite, because those casting the show had another actress in mind for Monica. "When we originally wrote the role, we had Janeane Garofalo's voice in our head," explains Kauffman's writing partner, David Crane. "Darker and edgier and snarkier, and Courteney brought a whole bunch of other colors to it. We decided that, week after week, that would be a lovelier place to go to." She nearly lost the role to Nancy McKeon, better known as Jo from The Facts of Life, but eventually NBC decided to go with Cox.
Shortly after casting the other roles, Kauffman realized they might be making TV history. "The first day we went to a run-through, and the six of them were together for the first time, onstage in the coffee shop, I remember the atmosphere being electric," she said. "A chill ran down my spine."
More:
Cox: 'Arquette Split Made Us Better Parents'
NBC Buys Courteney Cox-David Arquette Series