Is Gay Television Moving to the Internet?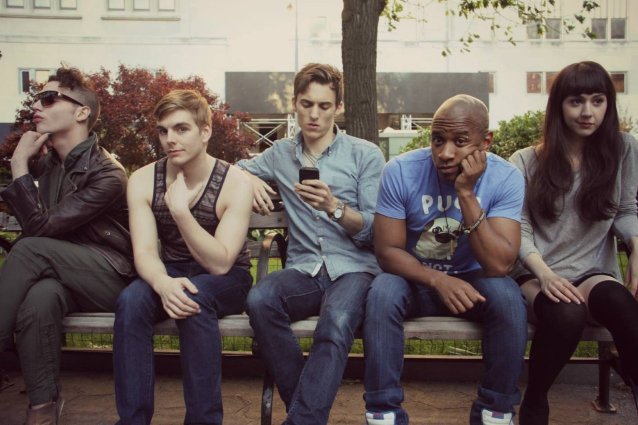 GaystheSeries/Facebook
Gay television is a complex premise. Gay men do not necessarily want to be singled out by their sexual identity. However, there is an interest in television shows that authentically speak to the gay experience and some semblance of the culture. Logo has opted to focus on lifestyle programming and go beyond labels which means mostly RuPaul's Drag Race, old sitcoms, and edited-for-TV movies. Looking is problematic because its subdued tone and racist adjacent handling of minorities. Let's not even talk about the Sean Saves the World debacle.
It seems like gay programming is moving to the Internet. There is less network red tape, people can make whatever shows they want, and the production values are higher than you'd expect. Here are just a few of the best the web has to offer to the discerning gay gentleman.
Gays: The Series
Looking is often compared to Girls due to their shared network home, but Gays: The Series might be more up the alley of Dunham fans seeking a program about homosexuality. The show succeeds in delivering a fresh take on gay single life, an attractive and diverse cast, and something that feels authentically New York. It does have a few shortcomings production wise, but for an independently produced series it succeeds in providing the gay community with their own HBO style comedy.
Whoa, Dude
Johnny McGovern, a.k.a. The Gay Pimp, gives Tosh.0 the queer eye. He takes homoerotic videos from the Internet and provides color commentary with his comedy cronies Julie Goldman, Brandy Howard, and James Pombo aka Linda James. The show is funny and frivolous, never taking itself too seriously. There have been a ton of people that have tried to replicate the styles of The Soup and Tosh.0; this series may seem reminiscent but brings a unique voice, premise, and a little NSFW flair to the medium.
Anything from Drew Droege
Droege is a gay Internet celebrity who burst onto the scene with hilarious web impersonations of Chloë Sevigny (of all people). He's also appeared in countless web videos. He headlines Hollywood Acting Studio where he plays an eccentric acting teacher at a community college. He's also starring in Not Looking , a Funny or Die parody of the HBO series. It's shocking that he has not been tapped to star on SNL given his outrageous characters and impressions.
Todrick Hall Productions
Believe it or not, there is a YouTube super producer at large. Todrick Hall is delivering YouTube videos with high production values and even celebrity cameos like Glee stars Alex Newell and Amber Riley. His videos incorporate race and LGBTQ issues seamlessly into parodies of popular films, Disney classics, and music videos. Whether it's a gay male version of Mean Girls or Disney princesses dancing in a Beyonce video, he has his finger on the pulse of what people are interested in. Could he become the Internet's answer to Oprah?