Matt Groening's Mother's Obituary Reveals How Much of 'The Simpsons' Was Based on His Real Life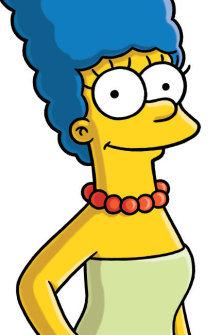 Through all of their follies, fights, and failures, The Simpsons are an impeccably close-knit family. Yes, they're wont to choking one another and accidentally marrying other women in Vegas, but moreover, they're imbued with compassion. And that's because they were born from a real world family that is, itself, obviously embedded in love: Simpsons creator Matt Groening's. It has long been known that the animator based his iconic characters on his own clan, but we're reminded of just how special the connection is in the obituary for Groening's mother, Margaret Ruth Wiggum Groening. Seeing some similarities already?
Sadly, Groening's mother passed away in April, dying at the age of 94. Her newly released obituary gives readers a heartfelt glimpse into just how much affection son Matt had for his mother, father, siblings, and Northwestern hometown.
Giving her first name to Simpsons matriarch Marge, and her maiden surname to the merry Wiggum family (Police Chief Clancy Wiggum, his soft-spoken wife Sara, and fan favorite imp Ralph), Margaret Groening clearly contributed a good deal to Springfield. Alongside her, we have husband Homer and daughters Lisa and Maggie, making up the first names of the Simpson household. Left over is Matt's brother Mark, whose name kind of sounds like Bart… so we'll count it.
Although the passing of Margaret is a tragedy for the Groenings, it is a testament to the love of this Oregon family that their names have been preserved, forever, through son and brother Matt's world-changing art.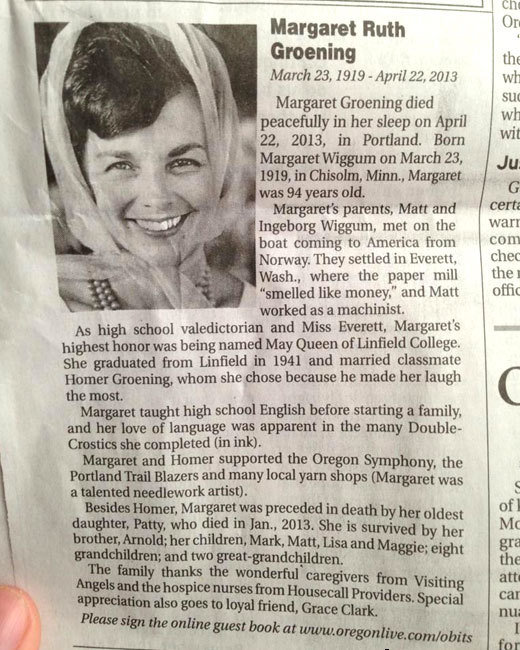 Follow Michael Arbeiter on Twitter @MichaelArbeiter
More:
'Simpsons' Scribe Don Payne Passes Away
Ray Harryhausen Dies
Comedy Central Won't Renew 'Futurama'
---
From Our Partners:


Nina Dobrev, Julianne Hough Bikini in Miami (Celebuzz)


33 Child Stars: Where Are They Now? (Celebuzz)