'Once Upon a Time' Star Emilie de Ravin Talks Rumbelle Romance, Racy Lacey, and Robin Hood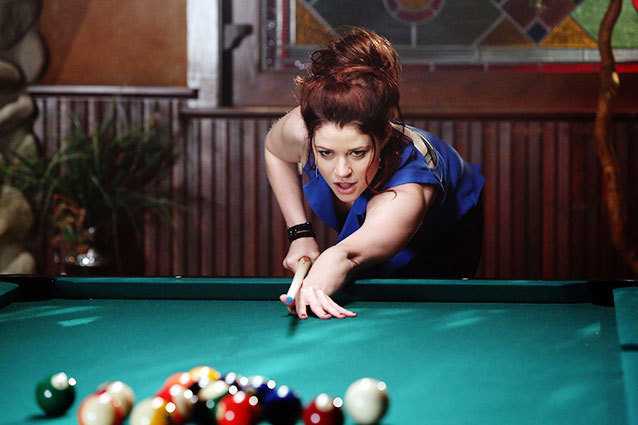 Once Upon a Time fans have endured four long, completely magic-free weeks for their favorite TV fairytale to return, and the wait is — finally! — almost over. And brace yourselves, because Sunday's all-new episode will introduce us to new characters, thrilling flashbacks, and a whole new world of challenges for those we already know and love in Storybrooke.
In anticipation of the long-awaited return, star Emilie de Ravin talked to Hollywood.com about Rumbelle's sweet beginnings, bringing in a never-before-seen hooded ally, and all the dirty details about Belle's racy new alter ego Lacey. 
"Regina [Lana Parrilla] gave Belle this false memory to once again mess with Mr. Gold [Robert Carlyle] and take away the one thing he loves," de Ravin explains about poor Rumpelstiltskin's unfortunate turn of events. But don't go worrying that Lacey, her tough, no-nonsense chick with a sharp tongue and a whole lot of attitude is as dark as that. The actress assured, "I mean she's dark. but she's not like an axe murderer." 
"Compared to Belle she's very free-spirited," de Ravin said, adding, "She a smart girl, she doesn't want adventure,  she doesn't care about books. She's rather hang out at the Rabbit Hole and drink, and play pool. She doesn't really care about what people think — in a good way. So she does dress a little scantily clad, but not for attention, it's just some people feel good in this or that or the other."
So with "Lacey" finally out of the hospital, Rumple is more determined than ever to get his beloved back, so he enlists Charming's help for a new plan. The actress told Hollywood.com, "The plan is to make Lacey fall in love with him so he can bring her back to Belle. And whether that's with a potion or with this true love's kiss, Lacey first has to fall in love with him."
Luckily, it appears as though Lacey has a thing for the bad boys. "I think she likes the dark side of Mr. Gold and that turns her on," de Ravin said, "You know, some girls like the bad boys and some girls like the booky ones — I think that she kind of gets off on the fact that he's a pretty bad dude." (Still can't keep track? The actress came up with the perfect way to tell her various characters apart: "Belle will have a cup of tea, Lacey will have a double Jack on the rocks. Maybe three"). 
And speaking of being bad, this week's Fairytale Land flashback will delve into Rumpel's evil behavior as The Dark One, and fans will get to see the return of Belle's gold ball gown. "The cool thing about this Fairytale Land flashbacks between me and Rumpel, is it fills in some pieces in between the other flashbacks before Belle falls for him," de Ravin says. "You see the first inkling of her seeing something that's not bad about him and that's sort of where it starts."
In case that wasn't enough to get you excited, de Ravin teases that fans will also be introduced to a classic fairytale character we've never met on the show before. "There a certain hooded thief — some may know as Robin Hood — who takes something very special from Rumpel. And Rumpel is very evil at this point so of course he starts to torture him."  
In addition to all this, de Ravin said fans will also get to witness a daring rescue and a brand new friendship. "[Belle and Robin] sort of form an allegiance then and we'll see what comes of that… I don't think we'll see him for the rest of the season but I'm 99 percent sure he'll be back next season… which I hope we all are." We are all wishing for that, too!
Don't miss Once Upon a Time this Sunday, April 21 at 8 PM ET on ABC.
Follow Leanne on Twitter @LeanneAguilera
More
'Once Upon A Time' Recap: Don't Tase Me Bro!
'Once Upon A Time' Post Mortem: The Cast Reacts To [spoiler!]'s Murder — How Dark Will Storybrooke Go?
'Once Upon A Time' Recap: A Fresh Start And A Blackened Heart
---
From Our Partners


Stars Pose Naked for 'Allure' (Celebuzz)


Which Game of Thrones Actor Looks Least Like His Character? (Vulture)