'Saturday Night Live' Recap: Edward Norton Finally Makes His SNL Hosting Debut (Season 39, Episode 4)
On the heels of his Late Night With Jimmy Fallon appearance earlier this week, Edward Norton continued his promo tour of nothing by hosting the 4th episode of season 39 of Saturday Night Live. With upcoming films slated for 2014 release, Norton was seemingly making his SNL hosting debut just because, even if Lorne Michaels really invited him to do so 13 years ago.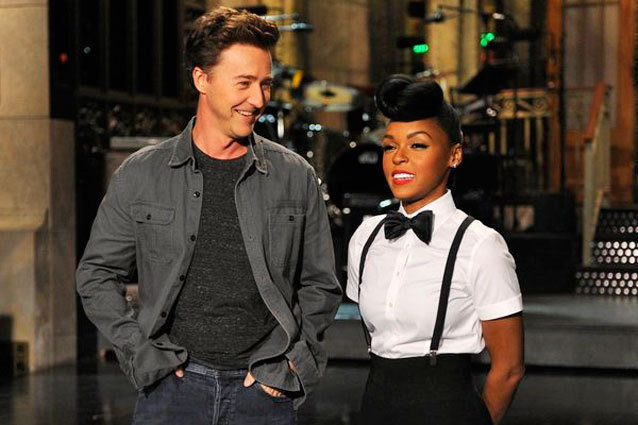 NBC
The  method actor quipped about his long preparation for SNL, as Alec Baldwin joined him on stage for hosting warmup. Baldwin's double-take lesson provided the punch, "Ok, that's a great take for American History X, which you were hilarious in by the way." This was sufficient for a successful monologue and for a minute it seemed like they'd avoid cameo overload. Then Miley Cyrus popped up as if she had been smoking weed in her dressing room since her hosting gig earlier this month.  Other than offering some mildly humorous host hints, the Baldwin and Cyrus cameos did little more than say, "at least we're promoting something."
Feminine Assets
This week Kate McKinnon opened the show strong, portraying the Secretary of Health, taking on the simple yet topical premise of Obamacare failing to understand how the Internet works.  McKinnon sets the tone for a successful opener with simple troubleshooting tips like, "For example, have you tried restarting your computer?" Her timing takes the sharpest shape when she starts rattling off other links on healthcare.gov, such as Kayak.com (to fly to Canada) and "a number of doctor themed pornographic websites that should help you pass the time."
While Bobby Moynihan's portrayal of a bat-swinging IT guy elicits huge laughs, the success of the cold open relies on McKinnon's stellar delivery. This early in the season, McKinnon has proven more than worthy of such responsibility. But aside from a killer opener, McKinnon's talents seemed largely underutilized in this week's episode.
This left room for Nasim Pedrad to shine in several sketches, mostly stealing the show as a flippant kid speaking in favor of van rides and candy from strangers. Later in the show she drew more laughs than anyone in a 12 Years a Slave-inspired sketch with only a dance and facial expression.
Impressive showings from both McKinnon and Pedrad can cause conflicting theories about who will be the next Kristen Wiig heir apparent SNL ingenue. Considering their individual talent, it seems unfair to have to choose. If anything, it's shocking that the writers have not created more conditions for these two powerhouses to play off of each other. The right recurring team of those two would thrive, serving both the show and their individual careers. Get on that, ladies.
Rookie Round-Up
The first few sketches were largely dependent on performances from Kenan Thompson, Pedrad, McKinnon, and Norton, making it seem like SNL was using their newbies sparingly. During a Wes Anderson horror trailer parody, Noël Wells showed off her ability to look like any actress ranging from Lena Dunham to Gwyneth Paltrow, but not much else happened for the freshman class.
The first real rookie risk taken was several sketches in, with Brooks Wheelan playing an excitable hillbilly with "critter control." The new featured player comfortably played off Norton, without much of a glaring difference between their comfortability performing. The start of the sketch introduces a common clash of context premise, with the unprofessional critter control specialists in a professional office environment. The possibility that this could be a recurring character for Wheelan is killed off in the end, along with the characters themselves. But it did exhibit Wheelan's comfort level alongside the pros, as well as the show's willingness to take a chance on his performance abilities.
Michael O'Brien had the most face time, playing main roles in two sketches. Like Wheelan, O'Brien performed alongside Norton without seeming rattled. First as a shortsighted criminal misusing Norton's Rain Man-like autism for simple counting, and later as a horny yet virginal waiter. If O'Brien and Wheelan appear to be getting more traction than their fellow rookies, it's likely because they are also writers who can develop and pitch ideas for themselves. O'Brien, who has been writing for the show since 2009, will likely have an easier time setting himself apart with more clout and comfortability than other new cast members. After all, he is following in the footsteps of Jason Sudeikis and Tina Fey, who were both promoted from writers to cast members.
Weekend Update
Weekend Update began with Seth Meyers proving they did not use up all his healthcare.gov jokes in the opening sketch, but the biggest laugh came when he brought up Kim Kardashian's recent engagement. "Kanye West this week asked Kim Kardashian for her brand in marriage." The best Update jokes reflect what the audience was already thinking, but with funnier phrasing. This joke accomplished such a feat. Cecily Strong continues to hold her own as co-anchor, but with mention of Meyers' new gig in February (not ice dancing) it's difficult to imagine her shouldering the responsibility solo.
New Dog, Old Tricks
SNL is the most effective when it taps into a unique irreverence that still leans on tradition. While season 39 is still very new, this episode contained many traditional elements. The show rested on uncomplicated, proven premises at the beginning and end of the the show. First it was the idea that it is adorable when adults portray inappropriate children, and later with assumption that it is equally hilarious when people do not understand what sex looks like. The early sketch was driven by Pedrad and Thompson's ability to look ridiculous as children, while the sketch about horny yet virginal waiters provided physical comedy. These sketches were not groundbreaking, but were effective in letting the funny overshadow the formula being used.
They also tapped into to common comedic theme of playing the idiot. The school-kid characters, Thompson's take on Steve Harvey, and Moynihan's 'Second Hand News' all succeeded in showing that idiots are funniest when they operate like they don't know they're stupid. Moynihan's Update appearance with 'Second Hand News' though funny, went on too long. It also echoed a ignorant news appeal that was utilized by Strong last season as 'The Girl You Wish You Hadn't Started a Conversation With At A Party.' In fact, that entire desk piece could have been written for said girl without changing a word. Moments like this are a reminder that SNL may not need to fix what isn't broken, as long as we're cool with them recycling what works.
Best Moment
Norton's humility as a celebrity and strengths as an actor almost allowed him to fall back into the position of ensemble cast member, rather than the center of the episode.This allowed him to be more effective when a sketch actually focused on him. In the last and arguably funniest sketch of the night, Norton plays an eccentric dad going through Halloween candy. His earnest delivery along with support from Moynihan and his son and Aidy Bryant as "Adult Ruth," was just good old fashioned funny. The sketch succeeds in reminding the audience that SNL does not need to be anything but just that.
Norton's lack of ego yielded a balanced, straightforward, almost a classic show, that capitalized on this season's strengths while keeping it simple. At first it seemed like a random guest host choice, but Norton was actually the perfect man for the job. Maybe more hosts should spend 13 years preparing for the role.