Tatiana Maslany on 'Orphan Black' is Our New Obsession and Should Be Yours, Too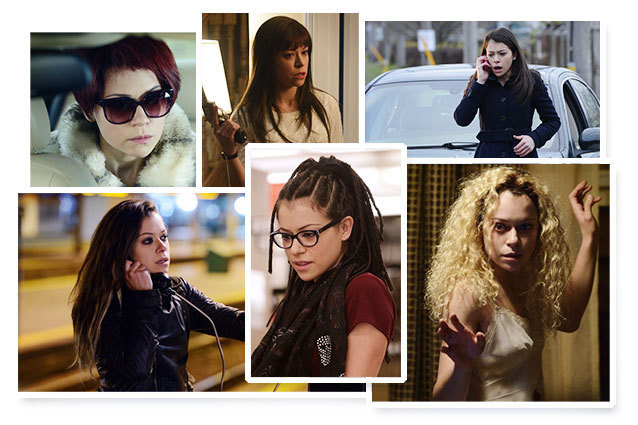 There's not even an attempt to be coy or unbiased here: I'm sort of obsessed with Tatiana Maslany, the actress from Orphan Black. The BBC America show took a little while to suck me in, but now I love it… and so much of that love stands on the shoulders of the actress who currently plays six of the show's very different characters. Maslany herself has even alluded to there being four more versions of her that we'll meet this season alone. And I'll be damned if she isn't wonderful — and more importantly, convincing — as each and every one.
To put it simply, if you're not watching Orphan Black, you really should be. The story follows a young woman who witnesses the suicide of another young woman, steals her identity and tries to piece together a better life for her and her young daughter after a tough and tangled upbringing. The twist comes as you learn that Sarah Manning (one of Maslany's characters) is actually a clone — one of several that we've met so far. But they're not just players in some sort of hokey long-lost sibling trope: each girl is unique, with her own personality, style, place of origin, and life. They might carry identical DNA and a dubious creation story (that we have yet to learn), but that's it.
So, if you do the math: my favorite gal — the 27-year-old Canadian-born Maslany — has the chops of a lot of damn good actresses rolled into one rising star. And the really crazy thing is, her career is only just beginning with Orphan Black. In 2010, the actress won a special jury prize at Sundance Film Festival for her breakout performance in the film Grown Up Movie Star: certainly not an accomplishment to sneeze at.
Now, actors playing identical twins or long-lost relatives is nothing new to storytelling. But what is new is Maslany's ability to actually make it good and believeable, rather than a jumble of cheesy sight gags or awkward prosthetics. And it takes a real, solid talent coupled with a wealth of research, intensity, and sense of character to pull it off: things Maslany proves to have no short supply of. 
Of course, the question begs: just who are these wildly diverse ladies? Well, there's Beth (the one we never really meet), whose life gets taken over by Sarah after Beth jumps in front of a train and dies. But becoming Beth came with some serious baggage, and now Sarah's left to put together the very weird, duplicated pieces. From there we meet the other clones: Alison, Helena, Cosmina, and Katja.
Alison is a soccer mom with some serious control issues and a highly conservative streak who introduces Sarah to Cosima. The quirkiest of the bunch, Cosima is an American PhD student, who conveniently happens to be studying the handy science of experimental evolutionary biology. All three of the girls seemed to have very little contact with Katja, a sickly German we quickly learn was shot by Helena, a Russian fundamentalist who believes that she might just be the original clone, as suggested by the bloodied, self-made wing outlines/scars on her back and her obsession with the idea that she was "fearfully and wonderfully made." (Confused? Don't be. Better yet, just watch the damn thing already).
Maslany embodies each of them in such a way that she truly gets lost within the characters. It's rare that you find yourself aware that she's even playing each character — that's how good she is. From acting to dialect (our current set of clones have been America, British, German, Russian, and Canadian) to personality, Maslany has a masterful understanding of each.
But there's not just straight characters to play. I mean, that would just be too easy. Sometimes the clones pretend to be other clones, so Maslany has the unenviable but truly impressive task of playing characters undercover: Sarah pretending to be Beth, Sarah pretending to be Katja, Alison pretending to be Sarah, or Helena pretending to be Sarah pretending to be Beth. It all sounds confusing, but trust me when I tell you Maslany's screen interpretation leaves no room for that. You're constantly challenged by who to believe, who to trust, and what their motives are. And it's f**king brilliant the way she pulls it off. 
The show itself deals with a myriad of issues — science, faith, humanity, and even the limits of nature versus nurture. Are we really in control of our own lives? The questions are deep, the morals ambiguous, and woven into the very heart of that is Maslany. Homegirl isn't (nor could she, really) phoning this s**t in. Quite the opposite: each character feels so uniquely defined, and not in a stereotypical way in the slightest. It feels clichéd to say it, but it's true: Maslany is a bold and honest performer, someone who manages to be vulnerable in ways that feel natural rather than forced. If nothing else, it's all just really, really cool.
So, congratulations Tatiana Maslany: you're my new favorite girl-crush and Orphan Black is a new TV obsession. If they aren't yours yet, you should probably do a double take.
Orphan Black airs Saturdays at 9PM on BBC America. 
Follow @AliciaLutes on Twitter
More:
BBC America's Creepy Clone Drama Orphan Black is Worth a Double Take
'Rectify' Gets a Second Season from Sundance After Two Episodes
'Violet & Daisy' Are Not Your Typical Teen Assassins
---
From Our Partners:


Miley Goes Braless for Magazine Cover (Celebuzz)


33 Child Stars: Where Are They Now? (Celebuzz)