'The Vampire Diaries' Will Seduce You With New Poster — EXCLUSIVE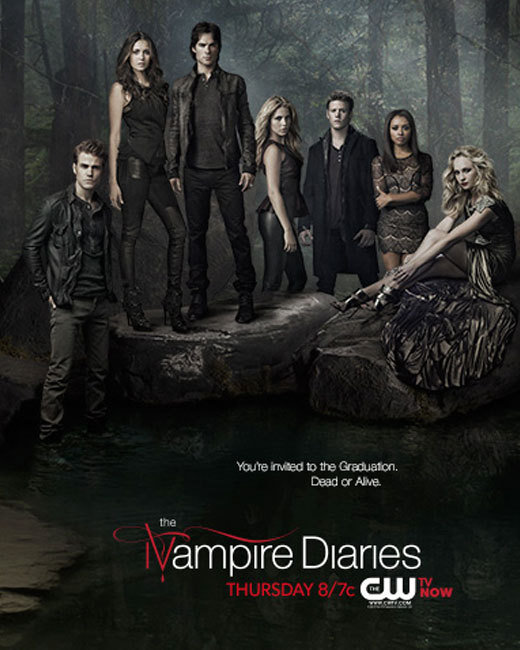 Attention, Vampire Diaries fans: You're cordially invited to Mystic Falls High School graduation. Dress code is casual, as long as you've got your best black leather clothes at the ready. Hollywood.com has the exclusive first look at The CW's art for the final two episodes of Season 4, and it's got quite the ominous tagline.
Feast your eyes on these leather-clad vampires (plus their token witch and human friends) giving their best smoldering gazes above the sinister text, "You're invited to the Graduation. Dead or Alive." Creepy! And accurate, since most of 'em are technically dead, being vampires and all. (Click on the poster to enlarge!)
In this week's episode, "The Walking Dead," the gang prepares for their big day. Of course, since this is Mystic Falls, things aren't as easy as sending out graduation announcements. Elena's only just begun coping with the ramifications of switching her emotions back on; Sheriff Forbes enlists Stefan and Damon's help with a situation at the hospital; Bonnie tries to blackmail Katherine into helping her defeat Silas; and a power outage causes ghosts to appear. No, we're not quite sure how that last bit fits in either but it's definitely intriguing.
The following week, "Graduation," sees a bunch of ghosts hell-bent on "settling old scores and fulfilling their supernatural destinies" while our favorite Mystic Falls seniors try to get their graduation on. An unlikely hero should help save the day, though. Will Bonnie's plan succeed? Will Rebekah take the cure? Which Salvatore will Elena choose? What is Silas' deal, anyway?
Find out the answer to at least some of those questions when the final two episodes of Season 4 air Thursday, May 9 and 16.
What do you think of the sexy vampire art? Do you think the little shops in Mystic Falls must be forced to stock a bunch more leather and black than most small-town boutiques?
More:
'The Vampire Diaries' Recap: Matt Finally Dies?!
'The Originals' is Amazing (And Klaus is a WHAT?!)
'The Vampire Diaries' Recap: Welcome to the Mystic Falls Prom
Follow Jean on Twitter @hijean
---
From Our Partners:


Nina Dobrev, Julianne Hough Bikini in Miami (Celebuzz)


33 Child Stars: Where Are They Now? (Celebuzz)