The 'Vikings' Cast Talks Bloody Battles and Love Triangles in Season 2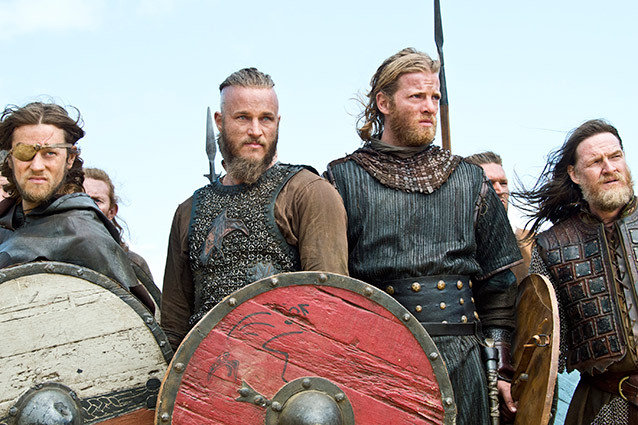 Bernard Walsh/History/A&E Networks
Vikings began its raid on the small screen last season, coming away with a bounty of ratings riches. Surprising everyone, the show became the number one new cable series of the year with an average of over 4 million viewers. Now Vikings is sailing back to the small screen with an ambitious, dark, and dangerous new season.
When we last left off our favorite raider Ragnar (Travis Fimmel) was battling with brother Rollo (Clive Standen) while complicating his love life. On a raid he spent time with the beautiful Princess Aslaug (Alyssa Sutherland) while at home his wife Lagertha (Katheryn Winnick) was dealt the crushing blow of seeing daughter Gita die. And former monk Athelstan (George Blagden) was finally starting to take to the Viking way of life.
Hollywood.com was lucky enough to chat with Vikings stars Travis Fimmel, George Blagden, and Alyssa Sutherland to get the scope on Season 2. Here's what they let slip:
Athelstan has embraced the Viking way of life… or has he?
As the season begins, Athelstan has seemingly thrown his lot in with the Vikings entirely. But has he really given up on his Christian faith?
"We leave Athelstan in Season 1 in a very conflicted place. The most interesting characters to play as an actor and watch as an audience are the ones that have deep conflicts running throughout. It would have been far too easy to make Athelstan a completely converted pagan and gung-ho into Viking life," actor George Blagden said about his character.
"What you see throughout the first few episodes of Season 2 is an attempt and potentially a bit of a bluff on his part. Hopefully what we've been able to capture this season is the ongoing conflict that Athelstan has."
Ragnar's love life gets complicated
With his relationship with the tough-as-nails Lagertha on the rocks, Ragnar spends some quality time with the beautiful Princess Aslaug. The repercussions of their momentary fling are far-reaching in Season 2, especially when Aslaug shows up in town pregnant.
"He wants it to be like the Brady Bunch, Ragnar does," star Travis Fimmel said about Ragnar's hope of combining both families. "People are putting 21st century values on it, but that stuff happened back then. He had to give it a shot anyway, you know?"
Bjorn grows up
Sometime in the first four episodes, we jump forward in time four years. This allows little Bjorn to grow up into The Hunger Games actor Alexander Ludgwig.
"We loved Nathan O'Toole, he's such a great little actor and we were really sad to see him leave. But Alexander's fantastic too, so he was very well replaced," Fimmel said. "And he's a big, big boy. He grows quick in four years."
Lagertha changes in Season 2
Her husband's betrayal and her daughter's death lead to a much different Lagertha in Season 2.
"Lagertha seems to be chasing a bit more power now," Fimmel said. "She wants to be Earl. She's had a taste of power and she's more about that now."
Aslaug isn't a homewrecker
Aslaug's appearance on the scene broke up power couple Ragnar and Lagertha, a relationship fans were already deeply invested in after only nine episodes.
"I think it's really cool that we get to bring this idea to modern audiences," actress Alyssa Sutherland said. "It's interesting to me how they struggle with the idea and dilute it down into Aslaug being a "homewrecker" or the other woman, and I question whether that concept would have even existed back then. I like the complication of that storyline."
Sutherland points out that Aslaug's goal wasn't to break up Ragnar and Lagertha when she shows up in town pregnant.
"It seems like a bold move, but what other pregnant chick wouldn't chase down the baby daddy?"
But Aslaug might have special powers
The world of Vikings has always been filled with mysticism and Princess Aslaug is no different. In Season 2, we find out she might have the power of second sight.
"What I love about the way [writer and creator] Michael Hirst does it is you're not totally sure if these magical elements that he weaves in every now and then are really happening or if it's just what they believed at the time," Sutherland said. "I like that it's left up to the viewer to decide. I certainly think that Aslaug, whether she was a seeress or not, she certainly believed it and the people around her believed it."
The season starts with a dramatic battle scene
Season 2 gets off to a action-packed start with a full-tilt battle between brothers Ragnar and Rollo. But they're not the only ones doing battle.
"The director shouted 'cut' and there was silence and you could just hear this giddy laughter soaring over the forest. And it was me, standing amongst the shield wall, just off my face on some adrenaline high," said Blagden of his first Viking battle. "Because there's no pretending; when they smash into the shield wall they really smash into the shield wall."
Series star Fimmel remembers the dramatic season-opening battle a little differently though.
"Those two days we shot it were some of the hottest days on record in Ireland. A lot of people passed out that day and there were a few injuries," Fimmel said. "That's what I remember most about that day."
Things remain complicated between Ragnar and Rollo
How do you fix a relationship like Ragnar and Rollo's? The two brothers have found themselves almost consistently at odds since the series began, since Rollo's jealousy often transforms into betrayal.
"It's going to be pretty hard to ever trust Rollo again," Fimmel says. "But he's blood and that's an important thing to Ragnar. There are certainly big obstacles to overcome with Rollo. The two brothers have a good arc this season, and it's a lot different from last season."
Vikings returns for Season 2 on February 27 at 10 PM on the History channel. Will you be watching?