'Social Network' Tops Weekend Box Office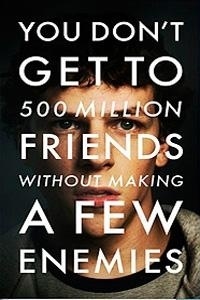 This is just the beginning for Sony's "The Social Network" as the David Fincher film earned a solid $23 million in its opening weekend and will now build upon solid word-of-mouth and Oscar buzz to eventually reach the $100 million mark in domestic revenue.  It is rare for a film to earn a four or five times multiple of its opening weekend, but the themes, performances and expected ongoing positive buzz will keep this one in the box office fight for many weeks to come.
Check out this "The Social Network" themed comic strip from Francesco Marciuliano.  Francesco writes the internationally-syndicated comic strip "Sally Forth" and the webcomic "Medium Large." He was the head writer for the PBS series "SeeMore's Playhouse," for which one of his episodes won two 2007 Daytime Emmys. He currently writes for the Onion News Network.

The owls showed amazing strength this weekend with a very "Town"-like 33% second weekend drop for "Legend of the Guardians: The Owls of Ga'Hoole" earned $10.85 million and thus brings its domestic total to just over $30 million.  It certainly pays to be one of the few family films in this marketplace and with the IMAX and 3D presentations to put it over the top; this is a solid fall performer.
Last weekend's number one film "Wall Street: Money Never Sleeps," dropped 47% to land in third with $10.1 million and a total domestic gross to date of $35.9 million.  Oscar buzz could build for star Michael Douglas who gave his newly re-booted Gordon Gekko a healthy infusion of pathos and introspection.
Number four belongs to Warner Bros.' "The Town" starring Ben Affleck and Jeremy Renner as the film realizes yet another buzz-worthy 36% third weekend drop and $10 million in the money bag.  The film has earned over $64 million to date and will continue to draw audiences looking for a taut, intelligent action movie boosted by stellar performances.
Another strong hold for Sony's "Easy A" keeps it in the top five curriculum in its third week against a freshman-sized 34% drop and an even $7 million for the weekend and $42.4 million for this profit-making teen comedy.  Great word-of-mouth continues to bolster the long term prospects for the Emma Stone starring vehicle.  Nathaniel Hawthorne would be proud.
Two other wide releases had a tough go this weekend and debuted outside of the Top Five with Paramount Vantage's "Case 39" starring Bradley Cooper at number seven earning $5.35 million, and Overture Films' brilliant horror re-make "Let Me In" in eighth place with $5.3 million.  
The Fall Movie Season is in full swing and while the overall weekend was down about 5%, the individual movies in the marketplace are holding well and generating solid buzz.  Clearly kids need movies too in the fall and this has benefitted "The Owls of Ga'Hoole" and at the same time, the adult drama is making a major comeback with "The American," "The Town," "Wall Street 2" and "The Social Network" all performing well and finding favor with a broad audience looking for a quality-filled experience at the movie theatre.
Top 10 Movies – Weekend of October 1, 2010 (Estimates)
Movie
Weekend
Total
1
The Social Network (PG-13)
$23.0 M
$23.0 M
2
Legend of the Guardians: The Owls Of Ga'Hoole (PG)
$10.9 M
$30.0 M
3
Wall Street: Money Never Sleeps (PG-13)
$10.1 M
$35.9 M
4
The Town (R)
$10.0 M
$64.3 M
5
Easy A (PG-13)
$7.0 M
$42.4 M
6
You Again (PG)
$5.5 M
$16.4 M
7
Case 39 (R)
$5.4 M
$5.4 M
8
Let Me In (R)
$5.3 M
$5.3 M
9
Devil (PG-13)
$3.7 M
$27.4 M
10
Alpha and Omega (PG)
$3.0 M
$19.0 M