Anthony Bourdain Also Slams Guy Fieri's Restaurant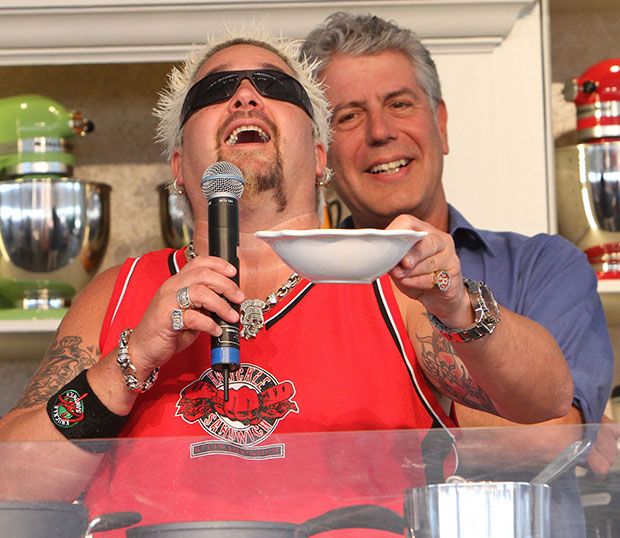 Celebrity chef and Diners, Drive-Ins and Dives host Guy Fieri's restaurant Guy's American Kitchen and Bar has been open for two months, but it is making headlines this week thanks to a scathing review by New York Times food critic Pete Wells. The review, written entirely in questions, asks of Fieri such pointed queries as, "Hey, did you try that blue drink, the one that glows like nuclear waste? The watermelon margarita? Any idea why it tastes like some combination of radiator fluid and formaldehyde?" and "Somewhere within the yawning, three-level interior of Guy's American Kitchen & Bar, is there a long refrigerated tunnel that servers have to pass through to make sure that the French fries, already limp and oil-sogged, are also served cold?" Burn. Unfortunately for Fieri, who defended his restaurant on the Today show this morning, Wells isn't his only critic.
Hollywood.com caught up Anthony Bourdain before his roast at the Food Network Wine and Food Festival in October, and he had some choice words for us regarding Fieri's then-brand spankin' new restaurant. When we asked if Bourdain would be sampling the cuisine at Fieri's place he responded with a curt, "No." When asked for an explanation, Bourdain said, "I'm not planning on eating at Bubba Gump's either." So sassy.
Bourdain's distaste with Fieri is nothing new. In October, Bourdain appeared on the Opie and Anthony radio show on SiriusXM and proclaimed, "I'm fascinated by the Guy Fieri terror dome that just opened." He then went on to say, "That guy set back spelling two decades. All these kids trying to spell 'cool' with a 'k'." The ball's in your court now, Fieri.
Follow Abbey Stone on Twitter @abbeystone
Reporting by Lindsey DiMattina.
[Photo Credit: Alexander Tamargo/Getty Images]
More:
Anthony Bourdain on the 'Hipster Apocalypse,' No Reservations, & Moving to CNN — EXCLUSIVE
Anthony Bourdain Leaves Travel for CNN: Will He Take His Edge With Him?
TV Tidbits: Anthony Bourdain is Mad at Travel, Matthew Lillard Jumps on The Bridge

Prince Harry's 'Naked Vegas Party Pal' Carrie Reichert Writing a Tell-All Book — EXCLUSIVE
(Celebuzz)