Ariana Grande vs. Mariah Carey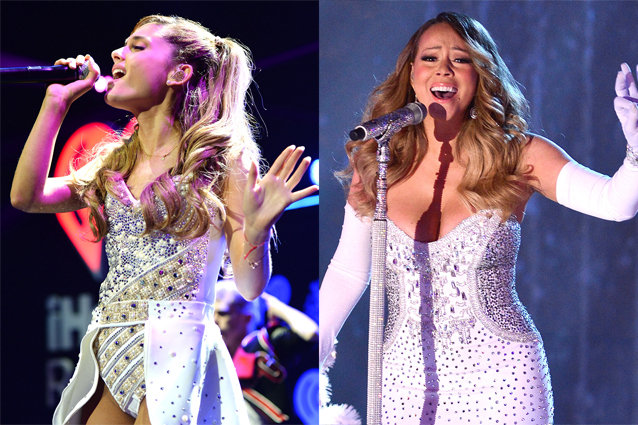 Getty Images/Getty Images
I was wrong about Ariana Grande.
When everyone was calling Grande the next Mariah Carey in 2013, I immediately dismissed such claims as hyperbole. Grande can sing, I would admit, but Carey is a legend. As time passed, however, I began to understand more clearly what people were talking about. Grande's debut album Yours Truly is an R&B masterpiece, and her live performances prove that she's one of the best vocalists in the music industry.
Carey was recently asked about Grande in an interview, and although she didn't specifically acknowledge the comparison, she did wish all emerging artists like Grande the best. Some media outlets are trying to create a controversy by suggesting that Carey was throwing shade at Grande. If anything, Carey just comes across as an oblivious superstar who doesn't have time to listen to new music. She also claimed that she hasn't heard Beyonce's "Drunk in Love."
Carey is clearly missing out, as Grande is both a talented new artist in her own right and a worthy successor to Carey's throne. Few female vocalists have ever been able to hit the high notes like Carey, and Grande is arguably the only one to do so who has also captured the public's attention with such force.
The case for Carey is obvious. She has a proven track record and longevity in a competitive business. However, her live performances have been lacking lately, and she hasn't really done anything relevant since The Emancipation of Mimi in 2005. Grande, on the other hand, hasn't been around long enough to overthrow Carey. Despite this, however, her graceful candor is refreshing, and her music relies on her excellent voice, thereby separating Grande both from young artists like herself as well as a contemporary Carey. In addition, Grande has mastered social media marketing and has garnered an impressive following. 
So let's settle this dispute once and for all. Who's better: Ariana Grande or Mariah Carey? Cast your vote below.