Rihanna Says Chris Brown Is Different Now: Has Her Bad Girl Image Gone Too Far?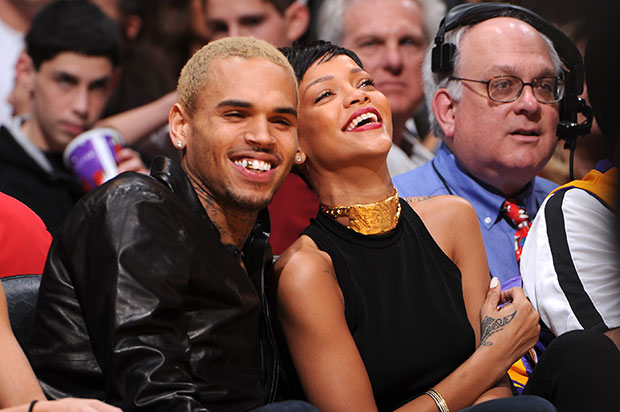 She's finally admitted it. Rihanna, in an interview in the upcoming issue of Rolling Stone, is finally opening up about her reconciliation with Chris Brown. She speaks of the changes in their relationship and her desire to be happy, but could this be an adverse symptom of a good girl gone bad? And what does it mean for her young fans?
The Barbadian pop singer has consistently strived to earn a reputation as the bad girl, singing songs about "rude" boys, explicit sexual fantasies, and S&M as well as taking rebellious turns with her videos, some of which have been banned for kinky content ("S&M") and one of which was shut down when an Irish landowner objected to the singer's risque behavior on his land ("We Found Love"). Rihanna has spent her career cementing herself as a rebel, and it appears that with her latest life decision, that persona doesn't end with her work.
Since Brown was outed for assaulting the singer after an altercation during their first relationship, fans and advocacy groups alike have called for Rihanna to keep her distance from the anger-prone R&B star, whose violent streak hasn't subsided (evidenced by his altercation with rapper Frank Ocean just a few days ago, on Jan. 28). However, since Oct. 2012, the duo has been laying hints of their reconciliation, to many fans' dismay. Now, Rihanna has confirmed the relationship to the music mag. "After being tormented for so many years, being angry and dark, I'd rather just live my truth and take the backlash. I can handle it," she says.
But it's the context the singer adds that helps grow our concern. Her words echo countless abused women before her:"When you add up the pieces from the outside, it's not the cutest puzzle in the world … But it's different now. We don't have those types of arguments. We talk about s**t. We value each other. We know exactly what we have now and we don't want to lose that… He doesn't have the luxury of f**king it up now … that's just not an option. I can't say that nothing else will ever go wrong. But I'm pretty solid in the knowing that he's disgusted by that. And I wouldn't have gone this far if I ever thought that was a possibility."Now, the first thing to notice about Rihanna's words are that they are resolute. She's making assertions and stating her own case, later saying that if something does go wrong, she will leave. This is a good sign because, according to Susan Katz-Murphy, a domestic violence victim advocate, "[victims] feel disempowered because the abuser had all the power." It's important for victims of abuse to feel that they are making their own decisions, something Rihanna seems to show with her resolve to give Brown another opening into her life. "I would support [victims] in taking responsibility and making their own thoughtful decisions," adds Katz-Murphy. And considering that Brown did undergo court-mandated therapy, it would seem that Rihanna has some foundation for believing he possesses the capacity to change and improve. However, Katz-Murphy points out that Brown's recent violent behavior is a red flag, even if it doesn't appear that way to Rihanna.
"For someone who was looking at the relationship, I don't think [Rihanna] would be seeing it as a red flag. It doesn't appear that [Brown's] learned a lot of lessons from the counseling or other coping mechanisms. He doesn't seem to have a lot of good coping mechanisms," she says. Brown's continuing penchant for violence, despite his potentially soothing turn to the art world, is a sign that his outlet for his anger is still very much violence. While he may do his best to keep that anger turned away from Rihanna, the capacity to physically harm is still there.
So, why would she go back to Brown and defend him to a major publication? The simple answer is love, which can obfuscate any practical obstacle, but another option is Rihanna's own proclivity for rebellion. "If she's a combative sort of person, it could affect why she would resist the authorities or other people who are telling her to do [avoid him]. She may be resistant to it," says Katz-Murphy. Rihanna, a self-professed Good Girl Gone Bad, could be reacting to the overwhelming cries for her to stay away from Brown by returning to him, as many victims of abuse tend to do with their abusers.
Essentially, nothing Rihanna has done up to this point is surprising, but unlike many battered women across the world, Rihanna has center stage in celebrity culture and all over the Internet. When she speaks out about returning to a previously abusive boyfriend, not only does the consumer of all things pop culture catch every word, so do her fans, many of whom are young. And with that base firmly in tow, she's stirred up controversy a few times, including setting off the Parents Television Council and BET's censors with her 2011 "Man Down" video. She's got reach, and we'd expect nothing less from a woman who holds the position as the most-viewed female artist on Youtube and has over 28 million Twitter followers.
And while Rihanna certainly has a duty to herself to work through her emotions and the repercussions of her former abusive relationship, she's doing so on a global stage. Her good-girl-gone-bad image now comes with a side of rebellion that's less of a liberation of sexuality, and more of a deep, dark pain being touted as strength thanks to the megaphone of fame. She's a star, so unlike a battered woman telling her close friends and family why she's made her decision in an intimate fashion, she shares it with the world. Katz-Murphy urges those close to victims of abuse "to keep the judgement down," and for the most part, it's easy enough to transfer that hope to Rihanna's fans.
However, it's hard to ignore the added element of responsibility that comes with being a worldwide superstar. While we're charged with the task of being more patient with a woman who's clearly been through the emotional wringer, Rihanna has the task of choosing what she should and should not share with her adoring and sometimes impressionable public. It's healthy for her to express her strength in the wake of her troubles with Brown, but it's important to make the distinction between moments of capability and strength (which the singer undoubtedly exhibits) and moments that explore the emotional scar tissue caused by Brown's past abuses. In this case, being the bad girl isn't a sexy position of liberation poised to inspire girls and sell them records. In this case, being the bad girl is ignoring sage advice and opening oneself up to further heartbreak. And while this tendency is a normal side-effect of abuse, it must be distinguished from her music industry devil-may-care persona of strength.
Follow Kelsea on Twitter @KelseaStahler
[Photo Credit: Andrew D. Bernstein/Getty Images]
More:
Chris Brown Feels Sad, Paints Crucifixion
Chris Brown Allegedly Punches Frank Ocean in a Parking Lot
Chris Brown and Rihanna Are Hooking Up: Why This Cannot Happen

20 Hottest Celebrity Bikini Bodies