Undeniable Proof That Sandra Bullock and George Clooney Are Meant to Be Together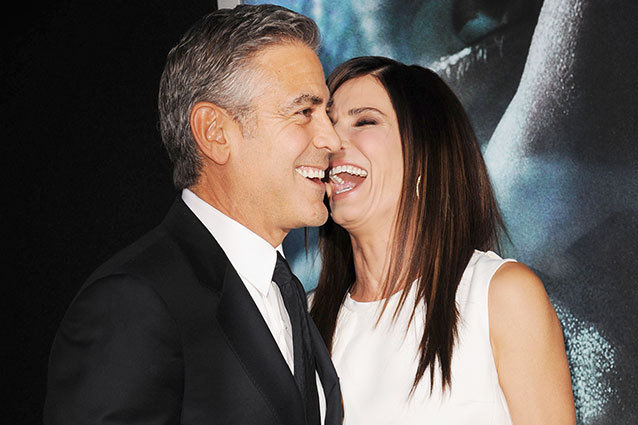 Kristin Callahan/ACE/INF Photo
Not too long after George Clooney's breakup with longtime girlfriend Stacy Keibler, the actor was rumored to have had an "adult sleepover" with ex-girlfriend Monika Jakisic, according to Us Weekly. Here's the issue: He belongs with Sandra Bullock and no one else. It's been a long time coming, but it's time for Clooney and Bullock to realize that they are meant to be. Here are a few reasons why the power stars would make the ultimate power couple:
They both have a sense of humor
There's no denying that Bullock has a funnybone (she's been in a zillion comedies), and as for Clooney, according to a story that Bullock shared on The Tonight Show With Jay Leno, he likes to pull pranks on her. The most recent being Clooney tricking her into jumping into a pool by herself. George, any lady that can deal with your pranks is a keeper.
They're close to the same age
She's 49 and he's 52. Now we're not saying that age determines how well a relationship will turn out, just that Clooney hasn't had much luck with the younger gals he's vied for.
Her son loves him
Definitely the biggest plus on this list. If Bullock ever decides to date someone seriously again, then she's obviously going to want her son Louis to get along with him. Good news, Clooney and Louis are already best friends. "My son thinks he's a very cool dude," Bullock told reporters at a Toronto International Film Festival press conference for Gravity (the new film that the pair star in together). "If there's a choice between me [and] George and Alfonso Cuaron (Gravity's director), my son will leave me to be with George and these guys. He's a boy's boy, so he has to go talk to the men."
They're old friends
They've been friends for over two decades! According to Us Weekly, Bullock said, "George and I have known each other for over 20 years. We've known each other since we got out of college. We have the same group of friends, so we've known each other since we had no work." If rom-coms have taught us anything, it's that best friends are always meant to be together. It's science.
There is so much sexual tension
Have you seen all of the photos of them on the red carpet while they've been promoting Gravity? There is so much chemistry there. Pictures don't lie, people.
More:
You Might Have a Panic Attack Just Watching This New Trailer for 'Gravity'
Even Sandra Bullock's Son Thinks She Should Get With George Clooney
George Clooney and Sandra Bullock Are Stellar in New 'Gravity' Trailer
Follow @CaseyRackham  
Follow @hollywood_com
---
From Our Partners:

A Complete History Of Twerking (1993-2013) (Vh1)


15 Stars Share Secrets of their Sex Lives (Celebuzz)