Tom Cruise and Scientology Auditioned Girlfriends for Actor, 'Vanity Fair' Article Alleges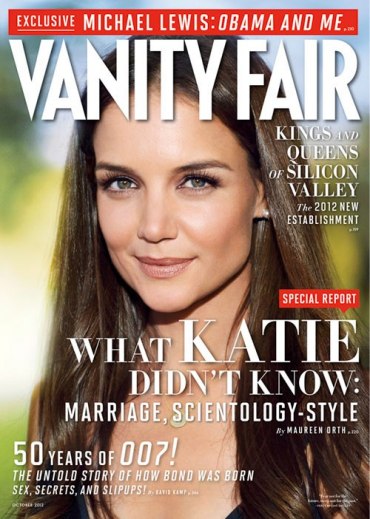 UPDATE: Tom Cruise's rep released the following statement to Hollywood.com regarding Maureen Orth's Vanity Fair article, "Lies in a different font are still lies — designed to sell magazines."
EARLIER: Tom Cruise
is no stranger to seeing his name in explosive tabloid headlines, but
Vanity Fair
has now also released
salacious details
surrounding his love life and its possible connection to his mysterious religion, Scientology.
Back in June, Katie Holmes filed for divorce from Cruise after five years of marriage — and five years of rampant media speculation surrounding the nature of their relationship. And now, following Maureen Orth's piece in Vanity Fair, there's likely to be even more chatter surrounding their hush-hush relationship (at least, hush-hush following Cruise's enthusiastic couch-jumping).
Orth spoke to various sources, including Scientologist Marc Headley, who claim the church embarked on an auditioning process to find Cruise a girlfriend in 2004. After relationships with Nicole Kidman and Penélope Cruz crumbled because of the actress' reported disrespect of the religion ("You can't do anything to displease Scientology, because Tom Cruise will freak out," Headley told Orth), Cruise allegedly selected actress and Scientologist Nazanin Boniadi — otherwise known to TV audiences as How I Met Your Mother's Nora — as his next paramour. According to Vanity Fair's press release:
Initially she was told only that she had been selected for a very important mission. In a month-long preparation in October 2004, she was audited every day, a process in which she told a high-ranking Scientology official her innermost secrets and every detail of her sex life. Boniadi allegedly was told to lose her braces, her red highlights, and her boyfriend. According to a knowledgeable source, she was shown confidential auditing files of her boyfriend to expedite a breakup. (Scientology denies any misuse of confidential material.) The source says Boniadi signed a confidentiality agreement and was told that if she "messed up" in any way she would be declared a Suppressive Person (a pariah and enemy of Scientology).
The article details the early days of their reported relationship, during which the couple went to dinner with "an entourage of Scientology aides," and stayed at Trump Tower, but did not engage in any intimate relations. The second month of their two-month romance, however, was rough on Boniadi, who found herself clashing with the A-list actor. Says Vanity Fair's release:Though the first month of their relationship was bliss, by the second month Boniadi was more and more often found wanting, Orth reports. According to the knowledgeable source, anything she said or did that Cruise found fault with he immediately reported to a member of the Scientology staff, and she would be audited for it. This began with her very first words to him, "Very well done," regarding his receiving Scientology's Freedom Medal of Valor. The phrase implied that Cruise was her junior. According to the knowledgeable source, Boniadi also offended Scientology chief David Miscavige, who speaks rapidly, because she kept saying, "Excuse me?" when she was entertaining him and his wife during a visit to Telluride. In Scientology, the ability to have your communication "land" is crucial. Boniadi was excoriated by Cruise for disrespecting Miscavige. (A representative for Miscavige told Vanity Fair, "Mr. Miscavige doesn't remember any girlfriend of anyone, in his entire life, insulting him.")
Soon, according to the piece, Boniadi felt "shut off," only able to use a credit card from Cruise's production company for money. Orth reports that Boniadi was told briefly after the alleged incident with Miscavige that Cruise "wants someone with her own power — like Nicole." Eventually, Boniadi reportedly told a Scientologist friend about her relationship with Cruise, and was subsequently reported to the church. Though the church denies it to Vanity Fair, Boniadi's punishment "was to scrub toilets with a toothbrush, clean bathroom tiles with acid, and dig ditches in the middle of the night. After that she was sent out to sell Scientology founder L. Ron Hubbard's Dianetics on street corners."
From Our Partners:

(Celebuzz)

(Celebuzz)