Uh, Did Jodie Foster Just Come Out at the Golden Globes? — VIDEO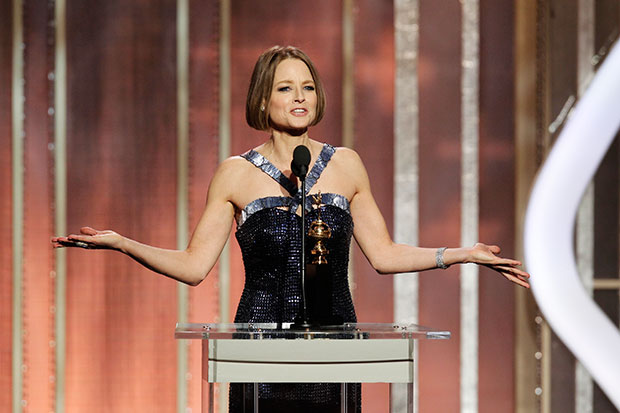 So, remember that time that the incredibly private, worst-secret-keeper in Hollywood, Ms. Jodie Foster, came out while also (maybe) admitting that she's no longer going to be acting on stages while accepting an award at the Golden Globes? No? Well, you should — because it just happened, right now.
That's right, arguably one of the worst-kept secrets in Hollywood, Foster's oft-discussed sexuality was revealed by Foster herself while the actress accepted the Cecil B. DeMile Lifetime Achievement Award for her 47 years in the Hollywood spotlight. Jodie Foster is a lesbian, you guys!
Though the admission is not technically her first. At the Women in Entertainment Breakfast on December 4, 2007, Foster thanked "my beautiful Cyndey," prompting many to take this admission of her relationship with a partner as her official "Coming Out."
Foster's speech was at first seemingly a fake-out — the actress began her time on stage by acknowledging how angry her publicist was about to be with her, and ruminating about a "big secret" people had been wondering about for "years." The audience on-screen and off waited while Foster announced, "I'm single," to a stifled and knowing laugh from everyone at the Beverly Hilton Sunday night. "While I'm here feeling confessional, I just have the sudden urge to say something I've never been able to air in public," Foster said. "I'm just going to put it out there loud and proud, right? I'm going to need your support on this. I am, uh, single."
Foster went on to note what was no doubt a palpable feeling in the room: Would Foster make a grand, long-awaited coming out speech? Nope. "There won't be a big coming out speech tonight," Foster explained. "Because I already did my coming out, about a thousand years ago, in the stone age, in those very quaint days when a fragile young girl would open up to friends, family, coworkers, and then gradually, proudly to everyone who knew her, to everyone she actually met."
Foster went on to lambast how celebrities have chosen to reveal their sexuality over the past decade: "Now, apparently, I'm told that every celebrity is expected to honor the details of their private life with a press conference, a fragrance, and a prime time reality show. You guys might be surprised, but I am not Honey Boo Boo Child."
In a weirdly uncomfortable speech filled with references to living your life in the public eye, Foster seemed to rally against the idea of famous gay people publicly coming out. The speech instantly caused Twitter near-meltdown amongst comedians, writers, and fans alike. Most seemed deeply confused by the star's seemingly conflicted ideas of wanting to be both deeply understood while also maintaining strict privacy.
"But seriously, if you have been a public figure from the time when you were a toddler, if you had to fight for life that felt real and honest and normal against all odds, then maybe then you too might value privacy above all else," Foster warned. "Privacy. Someday, in the future, people will look back and remember how beautiful this once was. I have given everything up there from the time I was three years old — that's a reality show enough."
Foster went on to acknowledge her former girlfriend Cydney Bernard and their two children, explaining their love and support has given her the life she's always wanted — away from the spotlight. "There's no way I could ever stand here without acknowledging one of the deepest loves of my life, my heroic co-parent, my ex-partner in love, but righteous soul sister in life. My confessor, ski buddy, consigliere, most beloved BFF of 20 years, Cydney Bernard. … I am so proud of our modern family, our amazing sons, Charlie and Kit, who are my reason to breathe and to evolve, my blood and soul. And boys, in case you didn't know it, this song, all of this, this song is for you. This brings me to the greatest influence of my life, my amazing mother Evelyn. Mom, I know you're inside those blue eyes somewhere and there are so many things you won't understand tonight, but this is the only important one to take in. I love you, I love you, I love you. And I hope that if I say this three times, it will magically and perfectly enter into your soul, fill you with grace and the joy of knowing that you did good in this life. You're a great mom. Please take that with you when you're finally okay to go."
In a moment that felt especially apt given the at-times rambling and confusing speech, Foster warned her sons about the potential backlash against her choice to step out of the closet, saying that "sometimes your mom loses it too. I can't help but get moody, you know? This feels like the end of one era and the beginning of something else. Scary and exicting. And know what? Well, I will never be up on the stage again, or any stage for that matter. Change, you gotta love it. I will continue to tell stories to move people by being moved, the greatest job in the world. it's just that from now on, I may be holding a different talking stick, and maybe it won't be as sparkly. Maybe it won't open on 3,000 screens. Maybe it will be so quiet and delicate, only dogs can hear it whistle. But it will be my writing on the wall."
Her final thought for the night? A bizarrely melancholy one, to be frank. "Jodie Foster was here. I still am. And I want to be seen and understood deeply, and to be not so very lonely." Check out the full speech below.
What do you think about Foster's admission? Let us know in the comments!
[Photo Credit: NBC]
Follow Alicia on Twitter @alicialutes
More:
Golden Globes: Kathryn Bigelow Is Amused by That James Cameron 'Torture' Joke — PHOTO
Globes 2013: Tina Fey & Amy Poehler Deliver The Best Monologue Ever?
2013 Golden Globe Awards: See the Full List of Winners Here!

25 Risqué Miley Cyrus Stage Outfits (Celebuzz)