Marvel vs. DC: Which Brand is the Bigger Threat at the Box Office?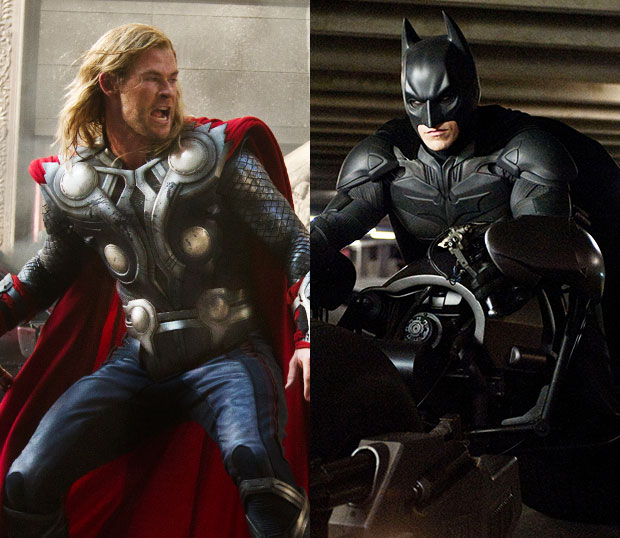 The announcement earlier this week by Warner Bros. that the studio is planning a Justice League movie for the summer of 2015 had us asking the question: who is the bigger box office threat, Marvel or DC Comics?
With battle lines being drawn we will let you decide for yourself by breaking down the numbers. Irrespective of whether you are a Marvel fan or a DC fan (or both), there is no doubt that both of these brands have brought and will continue to bring massive numbers of fans (and dollars) to the multi-plex in the years to come. Take a look at how both brands have fared: 
Marvel Comics: 
From 1986's
Howard the Duck
to 2012's
The Avengers
, the Marvel Comics superhero universe has been diverse, hugely popular and massively profitable. With over $5 billion in domestic box office and nearly $11 billion in worldwide revenue, the 28 feature films listed below have proven to be among the most successful in the history of movie-going. Though there has been the occasional misstep (
Howard the Duck
,
Supergirl
,
Elektra
), the Marvel films have proven to be among the most consistently strong performing of any movie brand franchise.
Bringing together some of the most popular Marvel characters in one giant irresistible package, The Avengers, released earlier this year, posted the biggest opening weekend gross of all-time ($207.4 million) and became a worldwide phenomenon grossing an incredible $1.5 billion at box offices worldwide. A planned Avengers sequel is set for May 1, 2015, the same year that the Justice League movie is scheduled for release. 
We crunched the numbers on all 28 Marvel Comic movies domestically, in order of release date. Totals for each film include 2D and 3D. 
The Amazing Spider-Man: $262 million (7/4/12)
The Avengers: $623.3 million (5/4/12)
Ghost Rider: Spirit of Vengeance: $51.7 million (2/17/12) 
Captain America: The First Avenger: $176.6 million (7/22/11) 
X-Men: First Class: $146.4 million (6/3/11)
Thor: $181 million (5/6/11) 
Iron Man 2: $312.4 million (5/7/10) 
X-Men Origins: Wolverine: $179.8 million (5/1/10)
The Incredible Hulk: $134.8 million (6/13/08)
Iron Man: $318.6 million (5/2/08)
Punisher: War Zone: $7.9 million (12/5/08)
Spider-Man 3: $336.5 million (5/4/07) 
Fantastic Four: The Rise of the Silver Surfer: $131.9 million (6/15/07) 
Ghost Rider: $115.8 million (2/16/07) 
X-Men: The Last Stand: $234.3 million (5/26/06) 
Fantastic Four: $154.7 million (7/8/05) 
Elektra: $24 million (1/14/05) 
Spider-Man 2: $373.3 million (6/30/04) 
Blade: Trinity: $52.4 million (12/8/04) 
The Punisher: $33.7 million (4/16/04) 
X2: X-Men United: $214.9 million (5/2/03)
The Hulk: $132.1 million (6/20/03) 
Daredevil: $102.5 million (2/14/03) 
Spider-Man: $403.7 million (5/3/02) 
Blade 2: $81.6 million (3/22/02) 
X-Men: $157.3 million (7/14/00) 
Blade: $70 million (8/21/98) 
Howard the Duck: $16.3 million (8/1/86) 
MARVEL DOMESTIC TOTAL BOX OFFICE: $5,030,790,814
Next up is DC Comics: 
A different type of superhero exists in the DC Universe and one that on the surface is just not as popular in terms of the overall box office as Marvel. However, lest anyone question the viability of the future of DC, one need only look at its recent past and in particular the
Christopher Nolan helmed Batman films
to see that an incredibly high level of filmmaking can exist within the DC world. Nearly $2.7 billion in domestic box office and over $4 billion in worldwide revenue is just part of the DC story. The early 80's was the era of
Superman
at the box office with the four films featuring
Christopher Reeve
generating over $500 million in domestic revenue (in 1980's dollars) and nearly $900 million worldwide.
Catwoman
,
Jonah Hex
,
Steel
and most recently
Green Lantern
have still not dampened the enthusiasm of the DC fans who cannot wait for the collective strength of
The Justice League
to put their favorite superhero house back in the thick of the box office fight. The following list includes only superhero films and not DC imprints films such as
The Losers
,
The Road to Perdition
and
Constantine
.
Here are the domestic totals of the 19 DC Comics movies released, in order, including 2D and 3D titles. (All were distributed by Warner Bros. except Supergirl which is a Tri-Star release.) 
The Dark Knight Rises: $446.2 million (7/20/12) 
Green Lantern: $116.6 million (6/7/11) 
Jonah Hex: $10.5 million (6/8/10) 
Watchmen: $107.5 million (3/6/09)
The Dark Knight: $533.3 million (7/18/08)
Superman Returns: $200 million (6/28/06) 
Batman Begins: $205.3 million (6/15/05) 
Catwoman: $40.2 million (7/23/04) 
Batman and Robin: $107.3 million (6/20/97) 
Steel: 1.6 million (8/15/97) 
Batman Forever: $184 million (6/16/95) 
Batman: Mask of the Phantasm: $5.6 million (12/24/93) 
Batman Returns: $162.8 million (6/19/92) 
Batman: $251.2 million (6/23/89) 
Superman IV: $15.6 million (7/24/87) 
Supergirl: $13.3 million (11/21/84) 
Superman III: $59.9 million (6/17/83) 
Superman II: $108.2 million (6/19/81) 
Superman: $134.2 million (12/15/78) 
DC COMICS DOMESTIC TOTAL BOX OFFICE $2,703,707,445
With nine more releases than DC and propelled by the success of The Avengers, Marvel has more power at the box office, bringing in nearly $2.3 billion more. 
[Photo credit: Walt Disney; Warner. Bros.] 
More: 
Justice League Movie Planned for 2015
From Our Partners:

Jaw-Dropping Actor Transformations
(Moviefone)

(Moviefone)