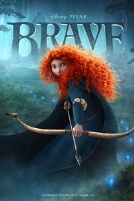 Pixar and Disney will continue their perfect box office track record with the debut of their 13th release Brave in 3D featuring the voices of Kelly Macdonald as Merida as well as Billy Connolly, Emma Thompson, Julie Walters and Robbie Coltrane.
An expected $60 million this weekend will give Pixar its 13th consecutive number one debut as it remains one of the most consistent and enduring movie brands in box office history. Set against the historic backdrop of the Scottish highlands, the PG-rated film is Pixar's first foray into fairy tale territory and certainly is reminiscent of 
The Hunger Games
 with its female protagonist wielding a bow and arrow. The Pixar films have been wildly successful earning $7.2 billion theatrical worldwide since the first "Toy Story" film opened with $29.1 million way back in 1995.
This will likely be the second "down" weekend vs. the comparable frame a year ago when Pixar's' "Cars 2" led the weekend with $66.1 million and "Bad Teacher" opened with $31.6 million.