'New Girl': Fox Casting VP Seth Yanklewitz Talks Emmy Nods, Season 2 and Guest Stars
A group of quirky, attractive late twentysomethings living together in a trendy urban setting. It's an M.O. that's nothing short of standard in the sitcom world. So how does one take a familiar premise and turn it into something that feels fresh and exciting? To start, you have
Liz Meriwether
pen one of the funniest shows in recent memory and then you cast the likes of
Zooey Deschanel
,
Max Greenfield
,
Jake Johnson
,
Lamorne Morris
, and
Hannah Simone
— and voilà — you've got the Emmy-nominated hit
New Girl
. 
The man responsible for that second critical ingredient is Seth Yanklewitz, FOX's Vice President of Casting, whose resume includes The Hangover, Eastbound & Down, Rock of Ages, Going the Distance, and, of course, the New Girl pilot. During an interview with Hollywood.com, Yanklewitz said the key to casting for an ensemble show like New Girl was simple: "Keeping it truly authentic and not having it feel like caricatures. It might be tweaked a little, but we all know a Jess, we all know a Schmidt, we all know these characters. We have them in our group of friends and I think that's what allowed people to relate so much. " 
It also helps to have a cast that clicks just as much off-screen as they do on-screen. "Everyone fell into an amazing groove…. They had instant chemistry and everybody realized how great the show was from reading the pilot," Yanklewitz said of the ensemble. "This is a group of people that all actually really like each other and they all just want each other to be the best they can be every day." It's that same supportive, creative environment that helped earn Emmy nominations for leading lady Deschanel and supporting breakout star Greenfield. 
Greenfield's nod in particular is a special one for Yanklewitz, a nominee himself this year (alongside New Girl's current casting director Anya Colloff). "[It's] the most beautiful validation for me as a casting director, and for him as an actor who really has just worked so hard at his career. It's beautiful to see someone who works hard get their due." Yanklewitz met Greenfield "8 years ago on a general," but told Hollywood.com that when he read the New Girl pilot, he knew the 31-year-old actor would be right for the part of Schmidt. It turned out to be more than a hunch since Greenfield, as Yanklewitz put it, "owned" the audition. And from there, a GIF-friendly fan-favorite sensation was born. 
Of course, while stars like Greenfield make the process easy for a casting director, Yanklewitz and co. were faced with a challenge early on for New Girl. Damon Wayans, Jr., who appeared in the pilot as the third male roommate known as Coach, had to leave the show when ABC picked up his other series Happy Endings for a second season. Rather than reshoot the pilot, they opted to create an entirely new character, Winston, who would be introduced in the second episode. It was a choice that the show not only poked fun at later in the season ("Be nicer to Coach or he's going to take off and live with other white people," Johnson's Nick said in a hilarious video confessional during an episode) but one Yanklewitz agreed was the only choice for the show to overcome the hurdle. "I think the smartest thing was that they made it a new character. The audience for this show is smart, they just couldnt get away with [recasting Coach]."
Luckily, even with the shakeup, Yanklewitz and co. already had actors on their radar from the casting process, including the man who would eventually place Winston: Morris. He explained, "Lamorne was supposed to test for the Coach role and got an offer on a CBS pilot during that pilot season and we just couldn't make the offer at that moment. Luckily that show didn't pan out so when we got Damon and the whole
Happy Endings
thing panned out, we had already known Lamorne from the process. It was sad to see Damon go, but I think it worked out. Those moments could go horribly wrong."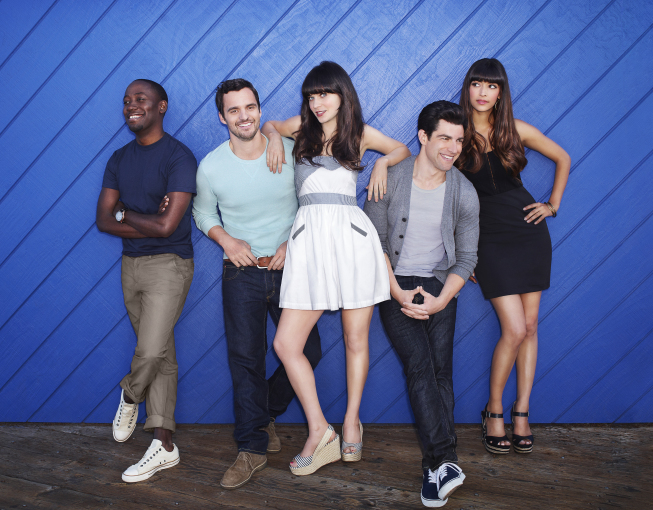 Perhaps just as high wire an act as creating and casting a new character is stunt and guest casting. From shows like Glee to Will & Grace, which relied heavily on guest stars, New Girl has managed to find the right mix of big names (Ryan Kwanten, Dermot Mulroney, Justin Long) and comedic character actors (Michaela Watkins, Rachel Harris, Lizzy Caplan). "It hasn't been, just stick a famous person in there. That's not the edict on the network side. Funny wins, and if we can get someone who can bring some life to the show in all areas of this business… Honestly, it's worked, whether it be Dermot Mulroney ('We really pushed for him… He let us tease him a bit in his manliness') or Ryan Kwanten ('He's a super talented actor and not too hard to look at')." 
The upcoming Season 2 will feature that same combination of recognizable names like Parker Posey ("She fits in this world" Yanklewitz said of the indie darling's New Girl stint) and up-and-comers like David Walton and Nelson Franklin (who will play Jess' and Cece's new love interests, respectively). "The show is so well written by Liz and everyone, the show has allowed us to dabble in both the indie comedy world, UCB, Improv Olympics, the Groundlings world, and hit a star or two," Yanklewitz acknowledged. 
While the show was supposed to have bona fide star Leslie Mann on board for a stint, bad timing got in the way. (After Mann stepped out, Posey stepped in). Still, Yanklewitz assured that everyone hopes to get the actress back in the future. "Leslie is amazing, comedy gold," he said. "It just maybe wasn't the right time. She really expressed interest in the show and loves Max Greenfield and wants to work with him. We will certainly work to get her back to the show and in a capacity that is right for her. We're all into Leslie being on the show." Still, with or without Mann, the show must — and will — go on, much to the delight of anxious excited fans. 
So what's in store for our favorite group of group of quirky, attractive late twenty somethings living together? Yanklewitz shared, "We're going to keep the relationships of all these guys developing and introducing new funny characters who are going to allow. You see who Schmidt is, you see who Nick is and see how they all need each other with hilarity ensuing." Is it September 25 yet? 
New Girl returns to FOX at 9 PM ET on — you guessed it — Tues, Sept. 25.
[Photo Credits: FOX; Dewey Nicks/FOX]
More: