'Modern Family' Is Getting Spin-Off Series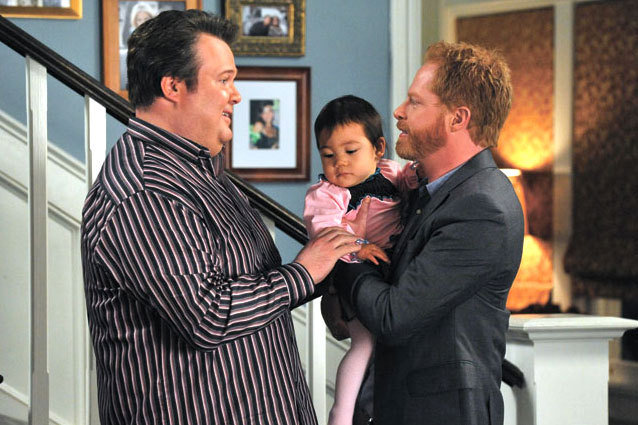 ABC
The Modern Family just got a bit bigger, but not in the way you would expect. Accoding to Deadline, ABC is in early talks to spin-off its hit comedy and perennial Emmys victor. While there aren't any firm details as to what the new show will be about just yet, reports indicate that it might focus on Rob Riggle's character Gil Thorpe.  The last thing Modern Family needs is more main characters to manuever its sitcom plots around. The show already balances the madcap madness of three families, each of whom could easily star in their own self-contained sitcom, and combines them into a medley of family comedy, so the fact that this spin-off would exist somewhat outside the realm of everyone else is a great idea. So what will this Modern Family spin-off be about exactly? Here are our two ideas.
Lily Prime
In the first two seasons of Modern Family, Lily was a delightfully mute adopted baby that always had the best one expression for every situation. In Season three, this little acting master was cruelly replaced by an overly sarcastic imposter who spouts quippy lines like a cynical 40-year-old. The new Lily has none of the deft subtly that the old Lily possessed. The new spinoff should be a sci-fi drama about the old Lily trying to prove to Mitchell and Cam that new Lily is some Invasion of the Bodysnatchers-style imposter, all the while not saying a single word. 
In The Moonlight: The Series
Dylan and Haley 4Evah! Dylan was Haley's first and only true love, and a spin-off chronicling his adventures would be amazing. We've seen Dylan working in Wyoming on a dude ranch, working as a mascot in Disney Land, and even working as a limo driver throughout his appearances in the show, and somehow always managing to bump into the Dunphys. Clearly, he is a Renaissance man of many talents. We would like to see a series about Dylan moving from career to career, hoping to bump into his first love once again… after he forgets how to get to her house. It already has a theme song.
More:
'Modern Family' Season 5 Photos
'Modern Family' Ratings are Down: 5 Ways to Get Viewers Back
Will We Finally Get a 'Modern Family' Wedding?