'The Real Housewives' Thank The 'Desperate Housewives' — EXCLUSIVE
It's the end of an era. The wildly successful scripted series, Desperate Housewives, is coming to a finish with Sunday night's season eight finale. But, while one series ends, The Real Housewives franchise lives on. The Real Housewives tell Hollywood.com exclusively about what this season finale means — and the reality stars can't help but remember how special Desperate has been to each of them.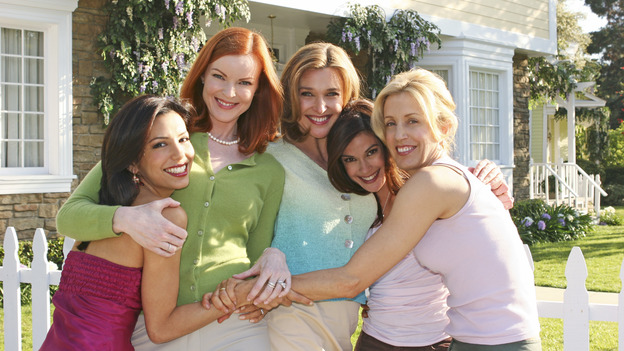 "[I'm a] huge fan," Orange County star Gretchen Rossi tells us. "It inspired the Real Housewives franchise — and honestly, I feel I owe a lot to Marc Cherry for creating a show that inspired a real life version of housewives!"
Ramona Singer from the New York City cast feels that the reality stars from her franchise actually emulate the Desperate Housewives in many ways. "It's all about women who are friends and live in a near vicinity, and bond," she explains. "And some have husbands, some have children, some have boyfriends, so yes that's very similar. And like everyone in life, we all have problems."
Singer's costar Sonja Morgan couldn't agree more. "They're the hottest housewives anyone had ever seen," she says. "That dynasty — we all aspire to dressing like them and having beautiful homes like them. And who the hell gets away with screwing around with the pool boy like that?"
Personally, Morgan feels that she relates closely to Teri Hatcher's character. "I'm definitely Susan Delfino," Morgan gushes. "She's a sweet, beautiful, nice girl. Everything she ever wanted. Dream house, adorable daughter, perfect man. Then, she discovered that her husband was cheating with the secretary. Life turned into a nightmare. Then she had to kick Carl out. Then she had to raise her teenage daughter. And then the hunky plumber comes, and all the women were after him. That's my life. Perfect marriage, family, and then the bottom falls out, and my life is relegated to plumbers."
But, 
Teresa Giudice
 from the New Jersey cast seems to think that her show "is even more over-the-top and crazy than
Desperate Housewives
." "Could you imagine Susan's brother and sister in-law moving to Wisteria Lane without Susan's knowledge?" she reasons. "I couldn't imagine watching each episode of
Desperate Housewives
where all they did was get together without Susan and spend the entire time talking badly about her. I also don't think Lynette Scavo would ever sink to the level of telling Susan's family to cut her out of [their lives] for their own health. You have to laugh though because truth is sometimes stranger than fiction. My co-stars are such drama queens and take themselves so seriously that it is absolutely ridiculous not to mention hilarious."
But, the reality stars are still thankful for the Desperate Housewives. "It was a phenomenal show," Singer says. "Everybody who first watched the show became addicted."
Are you going to miss Desperate Housewives?