'Bachelorette' Fantasy Suite: Past Winner Reveals 10 Scandalous Secrets
Every season, fans tune in for the most intoxicating episode of The Bachelor and The Bachelorette known as the overnight dates installment. Because well, up until this point in the season, all of the making out and kissing, it doesn't quite do it for us. And while Emily Maynard refused to spend the night with her final three contenders — Sean, Jef, and Arie — during Monday night's episode, that's not usually the case. We usually get to see a little bit more action like Ben Flajnik sucking Courtney Robertson's tongue in the hot tub or Vienna Girardi slamming the door in the camera's face as she falls into bed in nothing but lingerie with her former fiance Jake Pavelka. This season may have a been a little more on the non-pervy side — but former Bachelorette winner (from DeAnna Pappas' season) Jesse Csincsak shares 10 scandalous secrets with Hollywood.com exclusively of what goes on behind closed doors in the fantasy suites.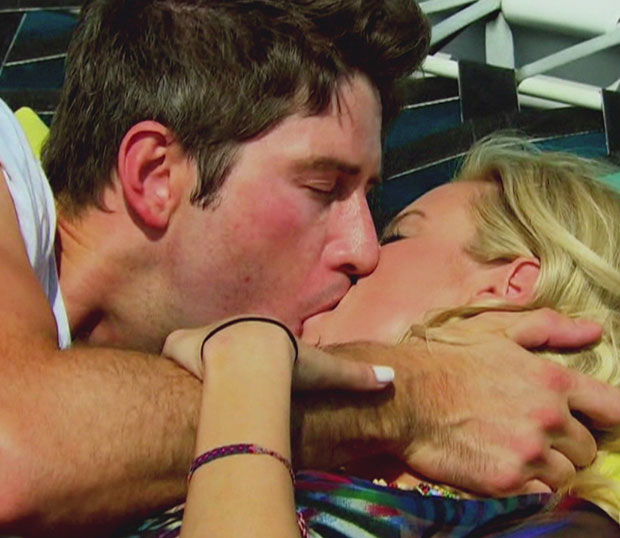 Do the couples have sex? Is protection provided? Are the producers getting to see some porn scenes from the footage that they caught? All these questions and more are answered. So, read on to fulfill your deep, dark Bachelorette curiosity.
1. Producers don't push couples to hook up. "Not really hook up, but they want a scandalous bath tub scene," Csincsak says. "Once it gets down to final three, you are on your own. You're sailing your own boat. There's no more captain." He adds: "You always see a poured bath that's drawn in all these fantasy suites. Every season they always try to get people to go in the bathtub together." But that's about it. "It never happens."
2. People do have sex, though, behind closed doors. "The fact that she [Maynard] didn't blows my mind," says Csincsak. "Have you ever thought about being engaged to a guy that you hadn't been with? You don't buy a car without beating the sh*t out of it first. Anything that you are going to have that is expensive or for the long-run, you touch it, feel it, squeeze it, break it. That's the society we live in."
RELATED: Reality Steve Responds to ABC Lawsuit
3. There are no cameras filming the sex scenes. "[Most of] the cameras that are used for the production of The Bachelor are shoulder ridden," explains Csincsak. "Everything is a big camera. There's no way to just mount one in the corner." He says that, though, at a certain point the cameras leave and the couples are left alone… somewhat.
4. But producers can hear what goes on in the fantasy suites. "There's never a microphone free moment," Csincsak admits. "They will take the microphone off of you, but everywhere they put you, they have those rooms wired. No camera, [but] they can hear audio, what you are talking about. They'll need to be able to produce you the next day if you come up with a grand scheme. Potentially yes, [they can hear your sex noises]."
5. Producers provide protection for couples. "There's everything you need to be good about it," says Csincsak. "That's what I mean by they make it very safe."
6. There's no down time between the one-night stands. "It's back to back to back," Csincsak states. "Four nights in a row or three nights in a row. Most people that are on the show have never watched the show. That's how they cast you. You don't know how it works. You don't realize that's what's going on right in front of your eyes. After the show is over, you realize what you saw. It's hindsight."
RELATED: Trista Sutter's 'Bachelorette' Blog: Breaking Down the Final Three
7. The bubblies are provided to help set the mood. "There's always champagne every where you go," notes Csincsak. "Champagne and chocolate-covered strawberries."
8. Host Chris Harrison doesn't write the fantasy suite cards. "Producer Casey writes those," Csincsak shares. "It's a gold mine of awkward talking. That was the coolest part about Jef [from Monday's episode] — that he didn't wait for the card. He just went boom, bring the awkwardness right out. The dude was so good at it. That was all him. If you plan on doing it, its not so awkward. He was probably the only one who was like, 'I got this.'"
9. Producers don't feed lines on how to say yes or no when the cards arrive. "They give you topics, and I guarantee Sean was coached through it," says Csincsak. "Jef was the only one really on it."
10. Runner-ups do get pissed that they had sex and then got dumped. "I probably would be," Csincsak says. "This season it's not going to be the case, but contestants do talk after the show."
At this point in the season, production seems to give Bachelors and Bachelorettes more free reign. Whatever happens behind closed doors remains there… unless the stars decide to dish themselves. "Once it gets down to the final four and the production factor goes off, there's no tension in the room," says Csincsak. "No cameras in your face. It's when you actually get to be yourself. And get to know the other person. When it goes to final 4-3, this is when things become normal." (Well, if you call meeting your boyfriend or girlfriend on national television normal, then yeah!)
[Photo Credit: ABC]
---
You Might Also Like:


15 Oscar-Winning Nude Scenes


Topanga's Revealing Lingerie Shoot: Hello '90s!