11 Reasons Why Leyton from 'One Tree Hill' Will Always Be Our OTP
Ever since the One Tree Hill pilot, fans have always known Lucas Scott (Chad Michael Murray) and Peyton Sawyer (Hilarie Burton) would end up together. Through six seasons, we have seen this couple get together and break up more times than we can count. Luckily, this iconic couple lived happily ever after despite the odds! Even if you're Team Brucas, you cannot deny these 11 reasons why you would want Leyton to be next to you when your dreams come true!
1. Their first meeting may have been tense but it was the start of a beautiful love story.
2. They're always saving each other.
3. Their sarcasm is adorable.
4. They know how to have fun.
5. They know how to tease each other.
6. Lucas can carry Peyton through a door better than anyone.
*Swoons*
7. They're there for each other at the worst moments.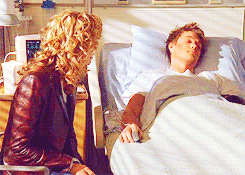 8. Even when they weren't together, their history will always be there.
9. Which is why Peyton was the one Lucas wanted next to him when his dreams came true!
10. They always knew they would live happily ever after.
11. And they did!