'Happy Endings' Season Premiere Recap: Why We're So Happy It's Back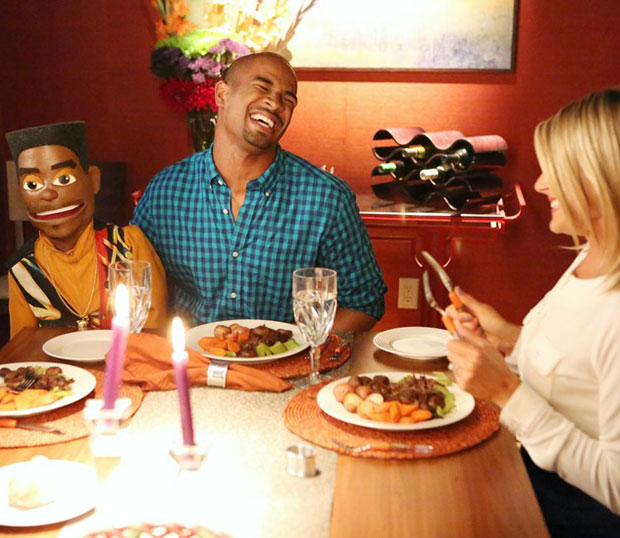 We trudge through the summer months with a heavy heart and ever darkening sensibilities. We only persist through this treacherous era, year after year, thanks to the hope inspired by the sparkling charm awaiting us at the other side. On Tuesday night, we grasped such a charm. We were granted the ultimate reward for patient survival, for our unwavering faith. We finally got what we have been waiting for since last May: Happy Endings came back. It returned to us. It kicked off its third season with the premiere episode, "Cazsh Dummy Spillionaires." It reminded us just why we've been longing so ardently for its revival. It made us feel happiness again.
It's true, "Cazsh Dummy Spillionaires" was not the best episode Happy Endings has ever coughed up, but it had a bit of everything we need to declare our lives worth living again. And so, here they are: the three reasons that Happy Endings' third season premiere made us, after so many nights of pitchblack trajectories into nihilistic wormholes, happy again.
"The last thing we want is for things to get complicated, like in It's Complicated, so we're just gonna go with it, like in Just Go With It, and be friends with benefits, like in No Strings Attached." – Alex
Context: Alex and Dave are back together! After a broken engagement, a slow slide back into friendship, a drunken one-night-stand, and a rekindling of old feelings, the central players on this comedic wonder have decided to give it another try. Of course, when the episode starts off, they insist on a purely caszh (that is the official spelling, as indicated by the ep title) ordeal, which quickly spirals out of control when they pressure one another into dating other people (just to prove how caszh they are!). But at the end of the day, Alex and Dave admit they do have real feelings for one another, and brace themselves for a more substantial relationship.
Why We're So Happy: The pop culture references are always plentiful on Happy Endings, be they circa '80s, '90s, or post-millennial. This gag is a double-whammy, acting as both a recitation of the lazy naming trend overtaking contemporary rom-coms and a character joke about the lovably two-steps-behind Alex, who misses the point of her own joke with that eventual evaded opportunity.
"That girls' so whack, her first name should be Knick-Knack-Paddy." – Sinbrad
Context: In the second season finale, Brad was let go from his job, launching him into an unprecedented state of unemployment (the man has been a workaholic since his middle school days). Even though he feared his type-A wife Jane would become livid and neurotic over this turn of events, she actually takes to it quite well, appreciating having him around to take care of the house and be there when she herself gets home from work. But here's the secret: Brad actually found another job right away, but has been keeping it a secret to make Jane happy. To foster the lie, Brad pretends to take up a slew of hobbies, including an old favorite: ventriloquism. Introducing… Sinbrad.
Why We're So Happy: Because Brad, although the straight-laced father figure of the group, is best when he is unequivocally silly. It doesn't matter that Sinbrad is a bit too close a cut to GOB's puppet pal Franklin on Arrested Development (especially considering Brad and Sinbrad's "Ebony and Ebony" against GOB and Franklin's "It Ain't Easy Bein' White, It Ain't Easy Bein' Brown"). We love this show enough to overlook that.
"Lunesta: Nature's Ambien." – Max
Context: When Penny is injured (scathed, even) falling down a flight of stairs, Max cares for her dutifully. But his attention diverts when Penny hires an attractive physical therapist named Kent, guiding Max to take advantage of the situation to earn some time alone with him. Max even delays the removal of Penny's body cast (seriously, she's very scathed) to take greater advantage of the Kent situation, eventually knocking his friend out with some Sleepy Time tea (laced with Lunesta!) to get Kent to physically therapize him instead of her. It's all very evil, yes, but as a flashback reveals, Penny did the exact same thing to Max once. Turnabout is fair play (especially when it comes to attractive physical therapists).
Why We're So Happy: Max, the brightest star on this great sitcom, strives to be an evil genius, but is really just of average evil intellect and sub-par evil drive (he gives up on his own plan mid-sentence at the end of the episode when he realizes just how sleazy it is). Plus, the revelation that Penny once Miseryed Max as he is now doing to her shows just how loose and fun an approach to its reality this show is willing to take. If it's funny, they'll do it.
The greatest joy derived from Happy Endings is that at the end of the day, it's a good old fashioned sitcom that knows it's a good old fashioned sitcom. It is satisfied sticking to the formulas presented by television comedy since the I Love Lucy days, but is always willing to say a few sharp things about said formula. The on-again-off-again thing that Alex and Dave uphold isn't new, but Happy Endings isn't treating it like it is. Ditto Penny's conflicting feelings for Dave, Brad and Jane's fear that their marriage will fall into a routine, and Max's constant scheming. This is all well-tread territory. But it's territory we know, and we love. And it's territory that is retread in a wonderful way. And that is why we're so happy to have you back, old friend. See you next week!
[Photo Credit: Adam Taylor/ABC]
More:
Don't Trust the B in Apt. 23 Recap: Dawson Leery's Funeral
New Girl Recap: Recap: The Hurtful Turtle
Exclusive: The Cast of 'Happy Endings' Dish Season 3 Shenanigans — VIDEOFrom Our Partners:

Donald Trump Speaks Out on Ripping Kristen Stewart on Twitter, Warns Robert Pattinson: 'Back Off…She's Bad News!' — EXCLUSIVE
(Celebuzz)

Emily VanCamp, Lea Michele, January Jones: Celebrities Who Show Major Cleavage in GQ — GALLERY
(Celebuzz)