10 Times Lorelai Gilmore Spoke to the Coffee Addict in Us
There are regular coffee drinkers and there are Lorelai-Gilmore-Would-Be-Proud coffee drinkers. We like to think of ourselves as the latter. With Gilmore Girls: A Year in the Life mere weeks away, we're hoping for a lot more coffee-centric banter from the Queen of Caffeine herself! Here are 10 times Lorelai totally spoke to our undying love for java.
1. When she literally couldn't function without it.
Coffee is an essential start to this Gilmore girl's day. For that, we bow.
2. When she had to explain the meaning of "Coffee! Coffee! Coffee!" to the nice lady behind the counter.

Come on, it's her "bit"! (And we'll take those two extra cups…)
3. When a teeny, tiny mug just wouldn't do it.
Anyone who needs their morning cup of joe to function knows this pain. We're with you on the "coffee bowl", Lorelai!
4. When her friends all knew and accepted her need for caffeine.
The mark of true friendship.
5. When she cheated on Luke's coffee…once!
We've all done it. You stray from your local coffee shop to try something new…but you always end up coming back.
6. When her love for coffee made her a little bit sassy.

We drink it black…like our soul.
7. When she tried to make her own holiday beverage.
Remember that time Lorelai dumped three candy canes into her coffee to boost her Christmas spirit? We do. We're guessing Stars Hollow still doesn't have Starbucks.
8. When she needed coffee SO bad that she became a mooch.
In the words of Ms. Gilmore, "Don't you understand? If I don't get coffee in me, things are going to get ugly around here!"
9. When she shared our world-view.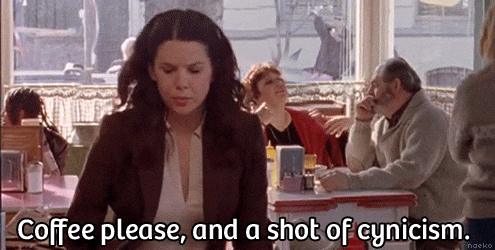 It's one of those days.
10. When she lied about her coffee intake (even to herself).
One of our favorite moments appears in the first episode. Luke begrudgingly feeds Lorelai's java addiction to which she replies, "Angel. You've got wings, baby!" We're certain every coffee-lover can relate.