'90210' Series Finale: One Happy Ending, and A Bunch of Ambiguous Ones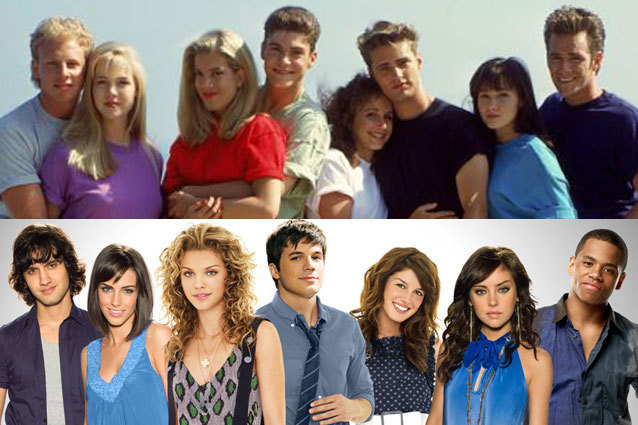 Five years after we met West Beverly High's newest generation of rich kids, the time has come (again) to say goodbye to the most famous zip code in the world. The CW's 90210 might have been conceived as a reboot of the '90s teen drama Beverly Hills, 90210, but after midwestern transplants Annie and Dixon Wilson adjusted to California life it quickly became its own show.
The final episode of the drama felt very retro — the Goo Goo Dolls performed, proving that it might actually still be the '90s in Beverly Hills — but it also tied up plenty of loose ends for some happy and not-so-happy endings. Can you guess the Jen Linley of this bunch?
Let's take a look back at where the gang began, and where they ended up:
Annie (Shenae Grimes)
She might've started out as a goody-goody drama kid — the Anne Hathaway of West Bev — but Annie's story took a dark turn into rebellion, vehicular manslaughter, and prostitution. Interestingly enough, Annie managed to snag the only straight-up happy ending of the bunch: She and Liam finally got engaged.
Dixon (Tristan Wilds)
Dixon went through plenty of trauma in a five-year span, including the David Silver Memorial Aspiring Musician Drug Problem and a terrible car accident, but interestingly enough, he seemed the most unchanged out of the group. Good ol' smiley Dixon.
Naomi (AnnaLynne McCord)
Once a straight-up bitch, Naomi Summer Roberts'd herself into the position of intimidating, confident friend who's actually a softie at heart. When her family lost their fortune she learned humility, and came out on the other side with just as excellent a wardrobe, a newfound urgency to do good in the world, and much straighter hair.
Navid (Michael Steger)
Navid always had it bad for Adrianna, and although he got trapped in a collapsing building and nearly died in the finale, it was because he ran in after his love and saved her life. Typical Navid. Those two ended up happily ever after as well, but in a less-than-ideal setting: the back of an ambulance.
Silver (Jessica Stroup)
Poor Erin Silver was not dealt an easy hand in life. After struggling with bipolar disorder and losing her mom to breast cancer, Silver learned in the finale that she'd developed cancer too. Can the poor girl catch a break? At least she has some truly supportive friends surrounding her. (And Adrianna.)
Adrianna (Jessica Lowndes)
Once a pregnant teenage former child star, Adrianna morphed into a crazy, slightly older teenage music star. For some reason all the nice dudes on the show put up with her, but thank goodness she and Navid stuck it through — his not-awfulness managed to rub off on her, at least a little.
Liam (Matt Lanter)
Liam went from the guy from the other side of the tracks to a bar-owning major movie star, earning himself a much-needed attitude adjustment before finally pleasing Lannie shippers everywhere and getting down on one knee. Annie and Liam forever!
More:
'90210' Canceled After Five Seasons
Oof. '90210' Cast Found Out About Cancelation Via Twitter
Shenae Grimes Marries Ahead of '90210' Series Finale
Follow Jean on Twitter @hijean
---
From Our Partners:


Watch Justin Bieber Attacked in Dubai (Celebuzz)


33 Child Stars: Where Are They Now? (Celebuzz)