'Comic Book Men' Ming Chen Talks 'Star Wars 7', 'Justice League', 'X-Men', and More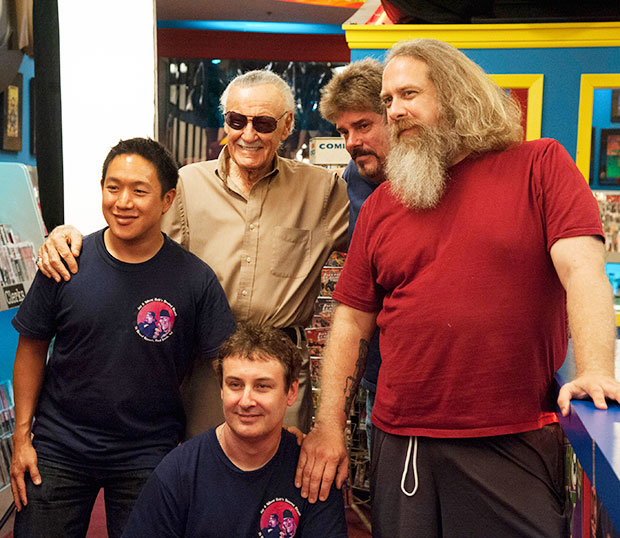 When you write for a site called Hollywood.com, you're expected to be able to spout a few thoughts on anything in the realm of movies, television, and pop culture. And interesting ones, ideally. But sometimes, we're not opposed to outsourcing this responsibility to someone whose expertise is unquestionable: take, for instance, the revered geeks that make up the cast of AMC's Comic Book Men. These are guys who get weekly airtime just to go on and on about their opinions of comics, superheroes, film, TV, the works. We got a chance to chat with the show's own Ming Chen, hoping that he'd be able to weigh in on the big titles in pop culture's imminent future… we're pretty sure that no stone was left unturned.
In addition to delving into his experiences making Comic Book Men — including his extraordinary encounter with Marvel legend Stan Lee, who visits the program on Sunday's episode — and what he thinks the show provides for the comic book world, Chen offered up his opinions on every in-development project we could think up, not to mention some untouched titles he'd like to see hit the screen in some form. Peruse some of Chen's words of wisdom to learn about the show, his own personal heroes and favorites, and the man's perspective on the likes of Justice League, Star Wars, X-Men, the announced S.H.I.E.L.D. television show, and more:
Comic Book Men
The Power of Comic Book Men
"It's something good to have out there. Any kind of TV show, any kind of exposure. I think we do it in a way where we're respectful and reverent, and we're excited about it. The great thing is that we don't hold back our excitement for comics and toys, definitely. I think that reflects a lot of people's feelings. A lot of people collect comics and toys, and maybe they're not as vocal about it. Having the show on and having people watch it, maybe they can be more open about it and share it with people."
"I hear a lot of people watch it with their wives, and they'll get back to me and tell me, 'At first, my wife was kind of [opposed to] watching this,' and then the show will grow on them … That prevents wars in the long run."
"I think my favorite part is that people will watch and see things that they owned as a kid. That they treasured, or haven't seen in years. Just the excitement, where they'll turn to their wife, or girlfriend, or whoever, and go, "Oh, I had that!" They see it on the show, and think that it'd be great to have it back, until they find out that it's hundreds of dollars more than they bought it for back in 1974."
The upcoming Stan Lee episode
"This next episode coming up, we've got Stan Lee coming to the store … [Before this,] I met him about four months ago. He was doing a comic book show, and we got invited to a kind of VIP experience with him. That was fun, although it was maybe two minutes with him. I got to say, 'Hi,' shake his hand, he signed something for me, and then it was kind of like, 'Next!' … For the show, we got to hang out with him all day. It was crazy. We definitely took advantage of it. We asked him all the fanboy questions we could throw at him. And he answered them very graciously. All the stupid [questions]: Who would win [between] one of your creations versus another one? How did you feel when this guy died, or when you went into this storyline? All that stuff he answered for us … He's such a great guy. It's hard to believe he's almost 90 years old. He was energetic. He jumped up on — there's a four-foot counter on the show — he jumped up on there and started talking to us. It was a little surreal. Just hard to imagine where he gets all that energy."
What to Expect on Future Episodes
"A lot of people just see Brian Johnson planted on the stool behind the counter. You'll get to see him be a little athletic. You're going to see us uncover one of the greatest comic book collections. You'll get to see us be good guys. Some people kind of see us as jerks, being jerks to the customers, but you'll get to see us do a good deed. Weird costumes. It's going to be pretty crazy."
Comic Books Breaching the Mainstream
"Most of us feel validated. We used to get made fun of for reading books and being into superheroes well into an age where people think that you shouldn't be into them. Now, you go out onto the street, you see people of all ages wearing Wolverine t-shirts, and the Hulk, even just talking about them in everyday life. Like they've been fans the whole time. Whereas guys like us, on the show, have really been. And that's a good thing. I think everybody should be into [comic books]. Not just kids. Not just males. Not just the previous stereotype. It's fun, it's so much fun. And it's great that they're putting so much money and effort into the movies."
Comic Book Movies: Good Vs. Bad
"Comic book movies have gone one or two ways. They've gone really great, with the [Sam Raimi] Spider-Mans, Iron Man, The Avengers — and then they've gone the other way, where they could have put a little more effort into the story and the effects. I'm thinking Punisher, maybe Ghost Rider. Sometimes, when that happens, it's not necessarily a bad thing. They just reboot it and do it later and forget that the other ones existed."
What Makes a Good Comic Book Movie?
"It's all story. Working with Kevin [Smith], the tip he's always giving aspiring filmmakers is [to] make sure your script is bulletproof. Everything else will fall into place. But the script is your foundation, your building block. If you can't get that right, nothing else will be right, either. I think that was kind of proven in the Green Lantern movie with Ryan Reynolds. The script just wasn't there. They threw all the money at the effects and everything, but the script just wasn't there.
"Remaining true to the original story, for the most part, is a good thing. Although, if you look back on some of the origin stories, they were kind of geared toward the '60s and '70s, when they originated. Some maybe don't hold up to how things are going right now. So little changes aren't bad either."
"It would be great if they could follow the Marvel blueprint: setting up the origin stories with the individual movies, and then when you get to the team-up movie, you already kind of know what happened, so you can just get right to the action. I don't know… at this point , I don't think they're going to bring Ryan Reynolds back as Green Lantern. I don't know how they 're going to do it. They don't have much time if they want to keep up with Marvel. But I think it can be done. It can definitely be done. It all depends on the right scripts.
"I'm excited. When I was a kid, … when Return of the Jedi came out, I was in school. I was like, 'Man, this is the last one!' I heard it was only going to be a trilogy. And a friend of mine was like, 'No, there's going to be nine … they're going to go back, they're going do the first the about the origin of Darth Vader, and then they're going to do the last three about Han and Leia's kids. The Force, rebuilding the galaxy. There are going to be new enemies.' So I figured I had 20, 30 years left of Star Wars movies to look forward to.
"Then when the prequels came out, everybody was older and more cynical, so they didn't live up to expectation in most peoples' eyes. And there was no word about the last trilogy, so I thought that was just kind of dead. George Lucas never really talked about them. Now that I hear that they're going to do more… more Star Wars is definitely a good thing. And now that you have Disney money behind it… Disney's "force," so to speak… where they can get any writer, where they can throw as much money as they want behind it. I know they've hired writers already. They're moving really quick. But really, they can take as much time as they want with it. I think they're going to be great."
Who Should Direct the New Star Wars Films?
"I wouldn't mind seeing Joss Whedon grab hold of one of those. Not all three. I think they should probably switch off directors for the three … If James Cameron directed a Star Wars, it'd be interesting to see. He can definitely keep the storyline action-oriented. It's the non-action stuff that you have to worry about."
The Story of the New Trilogy
"I've always heard it was going to be [about] Han and Leia's kids. Passing along the bloodline and Force. I think that'd be great to see them growing up. I talked to Mike [Zapcic], who is also on the show and also a big Star Wars fan. He mentioned, maybe, their kids going through something like a Jedi Academy. He would like to see it go more in like a Harry Potter direction, where they get into adventures, and find themselves, and grow up. Which would be a cool idea… I don't know about for three movies.
"And then the villains. I didn't read the books, the Tim Zahn books afterwards, but I heard later on that the soul of the emperor gets reincarnated. Potential for new villains, sky's the limits for those."