Katie Couric Leads Steve Harvey and Jeff Probst… So Far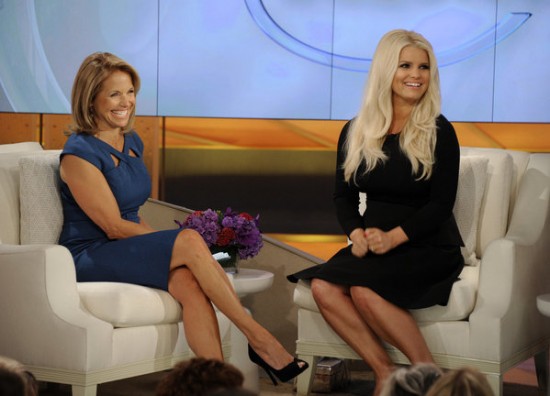 Several new talk shows are entering the TV arena this season — but will all of them survive? Already going up against daytime's new Queen of Nice (Ellen DeGeneres) and King of Tight Black T-Shirts (Anderson Cooper), a whopping five new celebrities are attempting to establish themselves as must-see (daytime) TV. And which newbie is winning the race so far? Seems Today fans nostalgic for the mid-2000s have found their outlet.
Despite Steve Harvey's promising debut Sept. 4 — which averaged a 1.49 rating/4.1 share in households, bumping up numbers 59 percent in its time period — Katie, hosted by former NBC morning show darling Katie Couric, nabbed a 2.8/8. That number, according to Deadline, ties Dr. Phil, establishing the new show as the highest debuting talker in 10 years.
Like many Today hosts learned, Couric is a tough act to follow, and it seems daytime's other newcomers have plenty of catching up to do. Jeff Probst, hosted by the Survivor emcee, bowed with 1.5/4 (perhaps he should start searching for an Immunity Idol now?) while Ricki Lake's second talk show effort attracted just a 0.8/2 rating. Even Anderson finished below Couric with a 1.3 rating.
Curiosity surrounding Couric's first guest, new mom/tabloid talking point Jessica Simpson, certainly helped boost numbers, but with an upcoming slate that includes Jennifer Lopez, Sofia Vergara, and Fifty Shades of Grey author E.L. James, Katie is likely to continue attracting a considerable number of viewers. Looks like Katie, well, did. 
[Image Credit: ABC]
More:
Jessica Simpson's Body Not Shown in New Weight Watchers Commercial — VIDEO
Today and GMA Showdown: Sarah Palin vs. Katie Couric