Remote Controlled: A 'Grinch' for All Seasons and Old Aliens Made New
Thanksgiving is on Thursday, meaning the forthcoming episodes of your favorite shows will be overwhelmingly holiday-themed. In the meantime, here's what you can expect to see on the tube this week.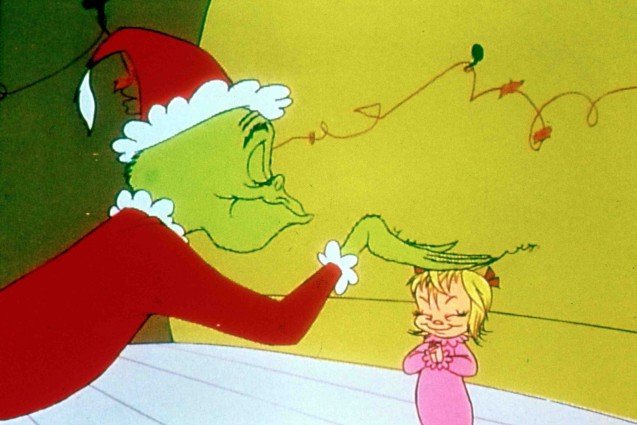 CBS
Dr. Seuss'  How the Grinch Stole Christmas
Watching the original Boris Karloff-narrated Grinch film during the holidays is about as American as Thanksgiving turkey and the requisite over-eating (U.S.A.!). And if by "original" Grinch film, you think I'm referring to Ron Howard's bizarre 2000 live action movie starring Jim Carrey, well then, shame on you. How the Grinch Stole Christmas airs Friday, November 29 at 8 PM ET on ABC.

New Girl
On this Thanksgiving-themed episode of New Girl, Jess and the gang embark on a camping trip to celebrate the holiday. That's right, only in the surreal world of LA can a bunch of twentysomething SoCal hipsters eat their cranberry logs and Stove Top stuffing outdoors in the middle of November. Must be nice. New Girl  airs Tuesday at 8 PM ET on Fox.
Tosh.O
As a comic, Daniel Tosh is known for his borderline-offensive style of comedy – which makes him a perfect candidate to host his very own YouTube clips show on Comedy Central, right? Of course, Tosh.O's gross-out videos may be too provocative for some folks (few can find the humor in a giant pus-filled growth being lanced off a man's back). But then you can just as easily watch reruns of The Andy Griffith Show  on TV Land. I hear they're really swell. New episodes of Tosh.O air Tuesdays at 7 PM ET on Comedy Central.
Ancient Aliens
Were the pyramids designed by beings from another world? Was Stonehenge the work of interplanetary visitors? Did the lost city of Atlantis really exist? These questions and more have been presented (albeit never answered) on six seasons and counting of the History Channel's widely popular conspiracy show, Ancient Aliens. New episodes air Friday at 7 PM ET on H2.
Treme
What happened to Treme? For a short while, it was hailed as David Simon's widely anticipated follow-up to The Wire. And then just like that, people stopped talking about it. Well the show never went anywhere, it's just that TV finally caught up with Simon, with critically-acclaimed series like Breaking Bad and Homeland basically picking up where The Wire left off. That said, should you be watching the fourth and final season of Treme when it debuts this Sunday on HBO. In a word: Yes!