Jimmy Fallon Reunited The 'Saved By The Bell' Crew And It Was Amazing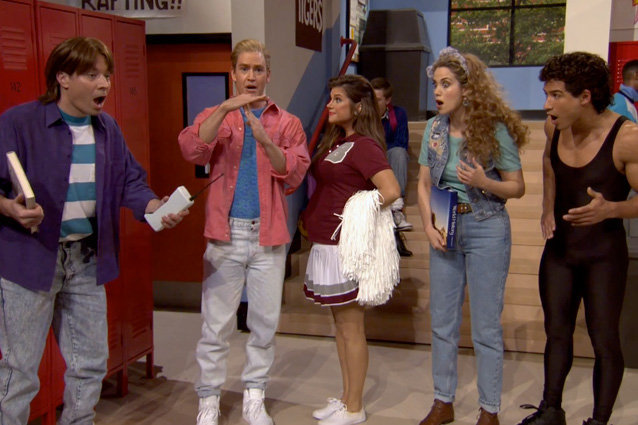 YouTube/The Tonight Show Starring Jimmy Fallon
The Tonight Show Starring Jimmy Fallon is currently filming out in L.A. this week, and host Jimmy Fallon decided to reminisce about his days of attending high school in Cali. Obviously, this means that Jimmy had to get the Saved By The Bell crew reunited (minus Screech and Lisa) for one amazing video.
Jimmy actually "attended" school at Bayside, in case you guys didn't know, so he was friends with Zach Morris and co. way back in the day. It's been 22 years since the group last walked the halls of Bayside together, but they all went back to Bayside High, Mr. Bellding included, to talk about the Valentine's Day dance and other important issues. 
You have to see this video for yourself. WARNING: There is A.C. Slater in tight, black spandex:
A buff Mario Lopez. A nod to "I'm So Excited – I'm So Scared." A Zach Morris Time-Out. And a pregnant Kelly Kapowski? What else can you expect from a Jimmy Fallon inspired Saved By The Bell Reunion? It was perfection. We hope he does this weekly. 
What was your favorite part! Tweet us your anwsers using the follow buttons below!