'SNL' Recap: Christina Applegate Gave Her All, Usain Bolt Grabbed the Comedy Baton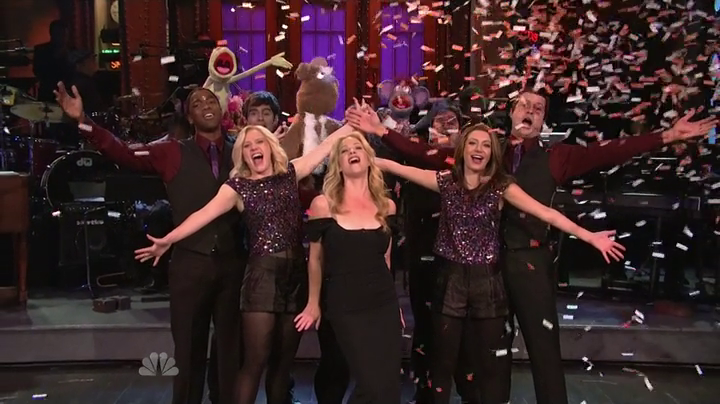 Last night's Saturday Night Live featured two jokes about Red Bull, one of which described the popular beverage as "tasting salty dishwater." I really could have used a couple of cans of the stuff to make it through the episode. Not just because I watched it on an exhausting delay because of that heartbreaker extra-innings Yankees game, but because this episode was such a slog to get through. 
Things started off strong enough with a cold open about that prime-for-the-picking
Vice Presidential debate
. There's no way
SNL
couldn't go to town on the face-off that had everyone talking this week. The opener hit all the right notes, from
Taran Killam
's creepy Howdy Doody-esque imitation of Congressman
Paul Ryan
("shark eyes", widows peak and all) to Jason Sudeikis' grinning, hyper take on Veep
Joe Biden
. While I'm fairly certain the people of Scranton didn't find this opener funny, I couldn't help but laugh at promising newcomer
Kate McKinnon
's moderator
Martha Raddatz
warning ("Don't try to f**k me like I'm
Jim Lehrer
") and that delightfully unexpected cameo from Olympic champion
Usain Bolt
. No "malarkey" cry though? Malarkey! Watch: 
The opening monologue, which brought host Christina Applegate back out to the SNL stage for the first time in 19 years, wasn't bad either… just something of a jumbled mess. There was a song-and-dance number about the pre-holiday season (though, to Applegate's credit, she gave it her all and has an absolutely lovely singing voice) that didn't make much sense (what exactly is wrong with things that taste like pumpkins?!), Fruppets (knock-off Muppets that seemed like something Stefon would find at a club), and a dead-on, but completely out-of-place imitation of Dane Cook by Sudeikis (that guy is not having the best weekend with NBC, is he?).
The first sign that things would be taking a really sour turn for the night was the pre-taped commercial that riffed on that incredibly smug Gilette commercial that features Adrien Brody, Gael Garcia Bernal, and Andre 3000. Inexplicably, the punchline of the bit was to throw Jerry Sandusky (prison uniform and all) into the mix. The only problem was, there was no punchline. The sketch didn't make fun of Sandusky, nor did it really make fun of the Gilette ad. It seemed as if they just threw the disgraced former Penn State coach in for shock value. It was a doubly wasted opportunity, and based on the audible groans from the crowd, they didn't get on board with the head scratcher either.
Speaking of groans, SNL decided to bring out their polarizing "Californians" sketch. I actually don't happen to have a problem with the sketch (though I'd venture to guess if I lived on the West Coast I might appreciate it more), but that's mainly because it prominently features Bill Hader and I will take any excuse to watch that guy. Last night's sketch went, as usual, far too long, but was saved by yet another delightful cameo from Bolt, this time wearing a blond wig. If you thought those overdone "Californians" accents were tough to understand before, Bolt put them all to shame. Still, it's impossible to make fun of that guy. He's simply awesome. Check it out, brah: 
The "Tech Talk" sketch that followed likely hit a nerve with anyone who has had to endure the listening to their tech-y friends endlessly complain about technology. The sketch probably packed the biggest laughs of the night, despite that fact that it featured some arguably racist or insensitive imitations of disgruntled Apple employees. (Of course Fred Armisen was in this sketch). 
I so wanted the faux preview for the faux movie "Give Us All Our Daughters Back" to work, because not only was it a much-needed riff on all these revenge movies like
Taken 2
and all-star ensembles such as
The Expendables
, but because sometimes when
SNL
does a slew of celebrity imitations, it's pure gold. Unfortunately, not so much here. While I certainly chuckled at Killam's
Liam Neeson
(whose skills included "fighting and growling") and
Jay Pharoah
's
Denzel Washington
is always a blast, the
Mel Gibson
gag seemed like a wasted opportunity (come on, how could they not have him say
"Give me back my son!"
?) and I couldn't figure out for the life of me why they made Applegate's hands so big to play
Uma Thurman
in
Kill Bill
. The sketch went in too many directions when it was such a straight target. See for yourself: 
The usually dependable Weekend Update felt especially tough to get through, despite a solid outing from Nasim Pedrad and her awesome Arianna Huffington impression. ("Could you be seeeerious?") Pedrad's turn made the whole thing worthwhile as Kenan Thompson's French Def Jam comic Jean K Jean has never been able to take off and Seth Meyers only had a handful of solid jokes. The best of the latter category was about that Philadelphia wedding brawl: "[Police] encouraged everyone to shout a little bit softer now."
The night only got worse from then on, thanks to a baffling sketch about Sudeikis (who was more prominently featured on the show than he's been in years) as a Greek God enjoying '90s music (maybe it was a leftover from when Applegate originally hosted back in 1993?); a painful-to-endure school Halloween party bit; and, finally, a Broadway dance class sketch taught by a major Fosse enthusiast. The latter of the three, while not particularly good, was salvaged by Applegate's total commitment to it. The Up All Night actress committed to everything throughout the night, it's just unfortunate they didn't give her something worth committing to. 
Since I don't want to end my recap on a bad note, I'll end it on a good note. Several good notes, actually, courtesy of musical guests
Passion Pit
. Their album 
Gossamer
has been a favorite of mine over the past few weeks, so it was fun to hear the toe-tappers "Take a Walk" and "Carried Away" performed live and performed very well, at that. Though, truth be told, I was keeping my fingers crossed for a little "Cry Like a Ghost", but much like last week's outing from
Muse
(particularly their performance of "Madness"), the musical guests were this week's big highlight for me. If the music is trumping the comedy thus far this season, that probably bodes pretty well for next week's host/guest
Bruno Mars
. Still, I'm ready for great music
and
great comedy again soon. 
What did you think of last night's
SNL
? Am I being too hard on the episode or going too easy on it? Did Christina Applegate save it by giving it her all or was the whole night shot down once they aired that Gilette commercial? Were you wondering what happened to the
Janis Joplin
sketch, too? Did you enjoy the sounds of Passion Pit? What was your favorite joke or sketch of the night? How about least favorite? Share in the comments section below.
[Photo Credit: NBC]
More: 
Saturday Night Live: Not Excited for Christina Applegate's Return? Malarkey!