ABC's 'The Makeover': Julia Stiles and David Walton on Romance and Boston Accents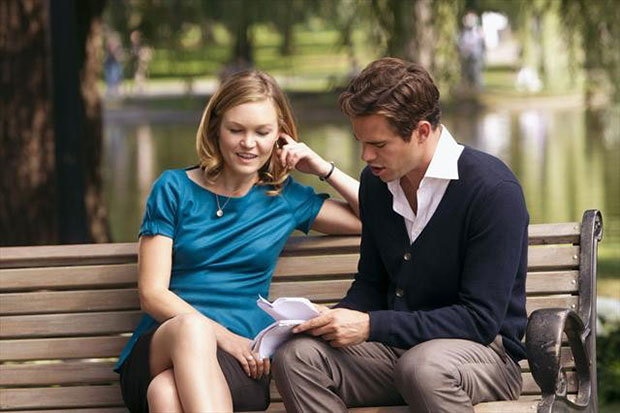 Sunday night on TV is notoriously dramatic — from revenge-seeking socialites in the Hamptons, to fairy tales with deathly consequences, to zombie-fighting. So, why not take in the breath of fresh air that is The Makeover?
In this romantic TV movie, Hannah Higgins (Julia Stiles) is a smart and driven education consultant. She's so driven, in fact, that she runs for Congress to advance the cause of education reform. But Hannah is not a likable candidate, as her elitism turns off Boston voters big-time. However she and her business partner, Colleen Pickering (Camryn Manheim), don't give up easily, and in the following election recruit a candidate who definitely is a man of the people, beer vendor Elliot Doolittle (David Walton). The two make a bet on whether they can transform him into a political player.
What follows is a light romantic comedy-esque trope (mild spoiler alert… but not really if you've ever seen any romantic movie ever) with Hannah and Elliot doing the dance of we-hate-each-other-then-we fall-for-each-other. But the reason The Makeover stands out from the overpopulated crowd of romantic TV movies is the stellar acting from the cast behind the characters.
Stiles is a veteran actor, dating all the way back to the days of her iconic role in 10 Things I Hate About You, where she won the heart of Heath Ledger's bad boy, to her recent season-long stint on Dexter, as well as her brilliant yet smaller role as Jennifer Lawrence's sister in the award-winning Silver Linings Playbook. So what made her decide to take on this lighter role?
"I was really at a time in my life when I wanted to do something light and romantic and to go to work everyday and be able to laugh," Stiles told Hollywood.com at the red carpet premiere of The Makeover. "I had been doing a lot of drama. And as much as that's rewarding and challenging and great, I just wanted to do something romantic. I'm kind of a sucker for that stuff."
NBC veteran Walton decided to take a break from the Peacock to get back to his Boston roots, but the challenge of taking on a deep Boston accent almost turned him off of the movie. "I grew up in Boston. And I was really scared to do a thick accent or any accent because I had never done one on a show, and being scared is always a good way to start things," Walton told Hollywood.com. "I like that challenging aspect. And I thought it was just a really sweet story. I don't really get a lot of chances to play nice guys. But he's just a sweet, nice, kind of heroic guy and I liked that. It appealed to me."
Walton was afraid of his attempt at a deep Boston accent becoming almost a parody of his hometown, and he strived to make it believable through a couple different ways. "Everything from going to the Cask'n Flagon in Boston, and listening to people, and trying to talk to all my old friends who live in Boston… I really just started talking like that basically and don't stop for like two months," Walton said. "And then trying to figure out the levels, basically was just the most extreme sounding SNL Boston accent and then dial it back like 10 percent. Just so that it didn't seem like an SNL accent."
ABC and Hallmark Hall of Fame's The Makeover premieres tonight at 9:00 PM ET/PT on ABC.
[Photo Credit: Erick Heinila/ABC]
Follow Sydney on Twitter @SydneyBucksbaum
More:
'Community' Is Back! Because the Feeling's Right, and It's October 19th – VIDEO
'Girls' Renewed for Season 3: That's Better Than Bathing a Pig!
Viral Internet Stars Take The Wheel In Volkswagen's Super Bowl Ad — VIDEO

Celebs as Kids: Guess Who? (Celebuzz)