Why Isn't a Woman Being Considered for 'Late Night'?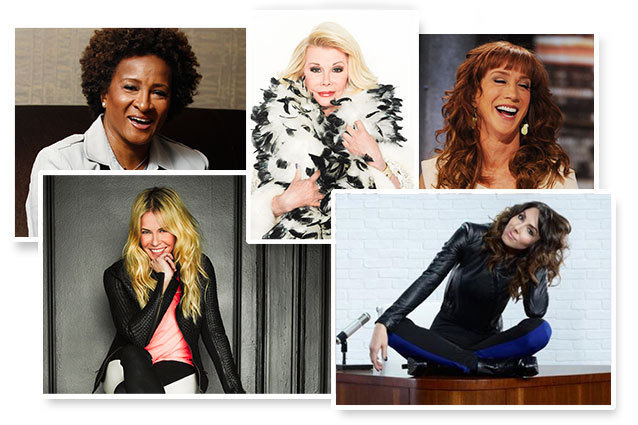 It's a question Joan Rivers tells us she finds "boring," and it feels almost Seinfeldian in nature, but: What's the deal with the lack of female hosts on late night television?
It's been a few weeks since The New York Times' first reported Jimmy Fallon would replace Jay Leno on The Tonight Show, a story NBC confirmed Wednesday. And in that time, nary a woman has been mentioned in any serious context as Fallon's possible Late Night replacement. Certainly, there are plenty of talented ladies funny enough to replace him — after all, in his former post, the Saturday Night Live actor was often outshined by his female co-stars. (Hello Amy, Tina, Maya, and Rachel!) Still, with Seth Meyers as the only frontrunner, not one female's name has been brought up as a legitimate successor. Because late night is a total sausagefest.
And it has been since its inception. With very few exception, only men have been allowed to stay up late. Johnny Carson ruled the Tonight Show circuit for a whopping 30 years, with personalities like Jack Paar, Steve Allen, Tom Snyder, Joey Bishop, Dick Cavett, Merv Griffin, Arsenio Hall, Chevy Chase, Craig Kilborn, and even non-comedians Pat Sajak and Carson Daly all trying out the genre. And that's not even considering the men currently on air. With so many late night opportunities given out over the last half a century, the gender gap is a serious mind-boggler.
RELATED: Fallon to Replace Leno as 'Tonight Show' Moves Back to NYC
So what's to blame? The fact that late night doesn't allow women to be themselves. Whereas male comedians are allowed to embrace their own style of humor for late night, female comedians are forced to change — to fit into a mold made up of the contradicting ideas about what we want from our late night hosts versus what we want from our women. History proves the genre has favored commercial male comedians to anything else — funny, class-clown types whose senses of humor are inoffensive enough to make them the everymen. Which is why folks like Fallon, Kimmel, and Leno flourish post-primetime. But when you look at some of the industry's most popular female comedians — Rivers, Kathy Griffin, Chelsea Handler, Roseanne Barr, Margaret Cho, Phyllis Diller, Sarah Silverman — one consistent unifier is evident: These are some bold and brassy broads. Just like Wanda Sykes, Mo'Nique, and Whitney Cummings — all women who failed on late night after failing to stay true to their comedy.
But bold and brassy is exactly what we need. We need to see different viewpoints, strong identities, and, yes, we need to be a little bit offended from time to time. In order to stand out in comedy — an industry that has long favored men — female comedians need to be tough and aggressive, traits that often end up bleeding into their comedy styles. (With, obviously, a few low-key exceptions, like Maria Bamford.) But to be a brash and opinionated woman on television is putting yourself in very sticky territory: loud, confident, opinionated women not only struggle to fit in with the mild late night comedy scene, but they also counter a female stereotype that still exists even years after women's suffrage. "Let me tell you, all women comedians, we are strong and we are lion tamers — and don't you ever forget it," Rivers says. "We can have three little bows in our hair and [be] wearing six-inch heels, [but] we're still lion tamers. And we go in there and we take over, otherwise we wouldn't be able to do stand-up."
The trouble is, as Fallon and Leno's success has proven, network audiences don't want to even see lions. They want cubs. And who better to sit in the late night position than the people we're already comfortable seeing in power: middle-aged white dudes. As Robert J. Thompson, founding director of the Bleier Center for Television and Popular Culture and Trustee Professor of Television and Popular Culture at the S.I. Newhouse School of Public Communications at at Syracuse University, says, "When you go down the line — especially the major players — there's a couple of categories that link them. And those categories are 'White' [and] 'Men.'"
And, hoo boy, is he right. There's Leno, Fallon, and Daly on NBC, Jimmy Kimmel on ABC, with David Letterman and Craig Ferguson rounding out the pack at CBS. The biggest male outlier before the 2010 late night clusterf**k was Conan O'Brien, and that's really just because he's a ginger. Channel surf your way through the networks after 11 PM, and the only women you'll see will be sitting in late night's audiences. Cable, on the other hand, has been far more risky and female-friendly, but suffers from an already overcrowded late night field, with Jon Stewart, Stephen Colbert, Bill Maher, Russell Brand, W. Kamau Bell, and O'Brien yucking it up after dark. That's a lot of competition. "A lot of women have been given a chance," Rivers tells Hollywood.com. "The ones that are good are going to stick."
But, so far, few have. Whereas Handler and Griffin have found success on E! and Bravo with Chelsea Lately and Kathy*, respectively, Wanda Sykes, Mo'Nique, Whoopi Goldberg, Rivers, and Whitney Cummings are among those who have been given a late night opportunity… only to watch it slip right through their fingers. And while MTV is attempting to strike comedy gold with its female-fronted-but-faltering Nikki And Sara Show, but as Thompson puts it, "It's different when you get put into a cable show versus when you're put into The Tonight Show."
*One day after publication, Bravo canceled Kathy.
RELATED: Jay Leno and TV's 10 Other Biggest Failures
And while the differences between cable and network are many, the genre still largely necessitates its women to change. Many reviews and reactions to Cummings and Mo'Nique's shows focus on the hosts' penchant for yelling — a kneejerk, low-brow humor trope that should admittedly be banished from any sort of regular use in comedy, period. (And that includes everyone, and Especially you, Dane Cook.) One fan review of The Mo'Nique Show laments about the change from a woman who "called you a b**ch and made you laugh at the same time" to someone whose "gushing over the guest and screaming 'yeeeeeees!' like a fake a$$ Oprah." Mo'Nique's noticeable change in appearance (a slimmer frame and shaved legs — something the comedian was quite vocal about not changing in the past), only proved to further disappoint fans who felt the strong-willed funnywoman wouldn't jump through such standard hoops in order to earn success. Sacrifice is always par for the course — but shouldn't come with a cost that compromises their very essence.
Cummings' stand-up routine is often described as transgressive — making jokes about sex, relationships, and the female body are run-of-the-mill topics for her. When placed on stage during Love You, Mean It, we saw a different Cummings. One that the production team felt a need to temper with the presence of her male sidekick, comedian Julian McCullough. While the thought is not an unwelcome one (a show co-hosted by a male/female duo has the potential for greatness), McCullough's presence came across as a way to reel Cummings back into what the show was really about: popular culture and entertainment. So why hire a female comedian whose jokes are primarily about love and relationships, to host a show about pop culture and entertainment? Just because she's a pretty face and a funny woman? Being female isn't a magical band-aid big enough to fix that sort of oversight.
That's not to say late night is an easy role for men either: Just recall the criticism Fallon faced during his first season on Late Night, which was far less refined than O'Brien's well-oiled machine. (Insert "oiled" and "masturbating bear" joke here.) Between the host's perma-laughter and doesn't-translate-to-TV jokes, viewers were calling for his head just episodes in. But the network maintained its faith in the comedian (thanks, no doubt, to comedy TV godfather, Lorne Michaels) and, after a season-and-a-half of Internet-friendly content, Fallon was at the top of his game, winning the Tonight Show gig a mere four years into his late night career.
But Fallon was lucky enough to be given enough time to work out Late Night's kinks. Not only was O'Brien canned less than a year after moving to Tonight — and less than one year after man fans criticized Coco's newly toned-down humor — but the women of late night haven't received much time come into their own, either. In a review of Cummings' show on E!'s Love You, Mean It, writer David Wiegand wielded a critique of Cummings' show that stated "…no one seems to laugh more loudly at Whitney's humor than Whitney herself," something that rings eerily similar to criticism lobbed at Fallon in his early days. But Cummings' show was — you guessed it! — canceled after its first season.
In fact, of all the female-fronted late night shows, only two have lasted more than a season. Hardly seems fair, does it? Such disparities can be chalked up to the difference between what major networks can afford versus cable or the talent selection. Network executives may be simply picking the wrong women for what they want. Just look at critical response to anything Cummings seems to do. Or even Sykes' stint staying up late — though many were polarized by her bold comedic style, more people disliked the dialed-down, TV-friendly spin she put on her own late night series. To find the lowest-common denominators and risqué acts to prop up (and tone down) as tributes to the late night Hunger Games is practically asking for them to be weeded out early on. "In schools, boys tend to be rewarded for being the class clown more than girls," states Thompson. "Those kind of gender roles — even as we go generations into the women's movement — a lot of that stuff is still, surprisingly, in tact … If NBC had replaced Leno not with Fallon, but if they had chosen a really good female comedian, that woman would've had a real struggle, because I do think the genre, the formula of late night television, is so macho."
It's no surprise women often have to struggle to even get recognized in the first place. "I think, in general, truly — women are never looked at, primarily, as somebody funny," Rivers says. "Nobody's ever quoted me a joke that Kate Moss did. So women already have that hurdle to go over, because they don't ever think any woman is … funny. And I don't know if men want a woman that is, really. To this day. I do, all my friends are hilariously funny women. But we're women with women. I think men just want you to be gorgeous. And available. I still believe that basically that's really all they want from you."
RELATED: If Jimmy Fallon Replaces Leno, Who'll Replace Fallon?
Listen, the concept of women as funny beings is debated ad nauseum. It's a stupid conversation that isn't worth having, full stop. But, as Thompson puts it, "To say 'Oh, this many women have tried and failed at late night comedy' — I don't think we can draw the conclusion that that means women just can't do this, or even that they were the wrong women; there are so many other variables there. When they were on, how much it was marketed, whether it was a cable channel or syndication — all those kind of things play into it." 
That's not to say there haven't been some successes — even in the perceived failures. Rivers was a longtime guest host on Johnny Carson's iteration of The Tonight Show, and her ratings were often higher than Carson's. It's no wonder she was rumored to be in the running to replace him once he decided to retire. But in 1986, FOX came a-knocking and offered Rivers her own show. Naturally, she said yes. "I was the first, first permanent guest hostess on the Carson show, which is unprecedented," she says. "It was never done before in history — between me and 6,000 men. And they picked me."
When Rivers did go off the air less than one year later, it was for personal reasons, not ratings. But the conflict had little to do with her as a person — according to the comedian, the men at the top (including Rupert Murdoch and Barry Diller) did not get along. "I was told by them, 'The tail does not wag the dog,'" she says. "I was told that on a Thursday and we were off air on a Friday."
But, strangely, whereas Cummings and Mo'Nique have struck out with toned-down humor, bigger personalities have performed well in cable's late night arena. Taking a look at the women who have succeeded — namely Handler and Griffin — one thing connects them: They are who they are. No one is toning down Handler's schtick, and Griffin is still doing the same snarky, celeb-obsessed routine on her show that she does on stage. They perform well because they refuse to be anything but what they are — and it works. Right talent, right network. It was no doubt a challenge for them to reach the levels of success they have, but the pay-off has been obvious. To steal a phrase from The West Wing's Leo McGarry: it's time to let Bartlet be Bartlet. Let the ladies be the comedians that made them popular to begin with. "Their humor has balls," Thompson says. "[Griffin and Handler are] females, but they're almost working in that aggressive — what we think of as male — humor, even though that's a very sexist thing to say." Sexism in Hollywood? No! You don't say.
But with a brawnier choice at the helm, could we find a late-night Katniss of our own? Perhaps, but it won't necessarily be easy for her, either. "People don't want to see women in that position, even though we all know Cleopatra ruled the roost, and we all know that Marie Antoinette made the decisions," Rivers says. "[But] things have changed tremendously for women. When a woman is good, that's it: the door is open to her much more." Which brings us back to late night poster children Handler and Griffin, again. When it's right, and the metaphorical stars align (right network, right time, right show) it's just so right.
But there is still much work to be done when it comes to changing society's opinions even further. All women must push past expectations consistently and without fear. Step forth, funny ladies, and claim your throne.
For Rivers, her choice is simple: "Tina Fey — give her the job and let's all go home." Sorry, Tina, looks like you're still the catch-all answer for the way society wants women to do comedy. But we're hopeful that it won't be for long.
Follow @Alicialutes on Twitter
---
From Our Partners


See 'Game of Thrones' as 'Mad Men' (Vulture)


Hayden Panetierre Bikinis in Miami (Celebuzz)