The Unchained Heartbreak of HBO's 'Phil Spector': A Review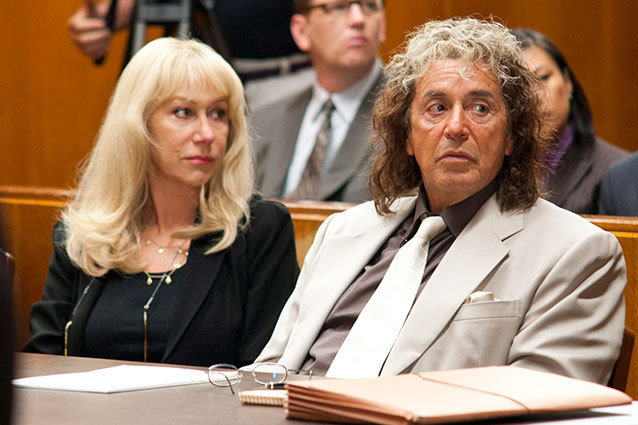 You may think you know what you're in for when you start watching an HBO's Phil Spector. It'll be a Quality with a Capital Q production built around a bonkers central performance by Al Pacino, in which he (literally and figuratively) wigs out and practically screams "Look at me, ma! I'm acting!" But the movie as it stands is far richer, and far more unsettling, than your typical Emmy bait. That's due in part to writer-director David Mamet, whose script mostly avoids the histrionics we'd expect in a depiction of the legendary music producer's trial in the death of actress Lana Clarkson. It's also due to a general serious-mindedness about the case and its implications, for Spector's legacy specifically and celebrity in general, that all parties involved seem to share.
Al Pacino Plays a Fiery Phil Spector in New Trailer for HBO's Film
HBO tacked on an unusually severe bit of legalese to open the film: "This is a work of fiction. It is not 'based on a true story.' It is a drama inspired by actual persons in a trial, but it is neither an attempt to depict actual persons, nor to comment on the trial or its outcome." Somebody really doesn't want to get sued. What's odd, though, is that, despite supposedly not being based on a true story, Mamet's script dives deep into the Rashomon-like details of Clarkson's death. If Spector had placed the gun in Clarkson's mouth and pulled the trigger, why wasn't there more blood splatter on his white blazer jacket? As it is, there were only a couple pin drops of blood on it, when any ballistics study shows there should have been a deluge. On the other hand, why the hell would this woman decide to commit suicide in Spector's house? And with one of Spector's many guns, no less? If Spector hadn't killed her, why did he run out to his chauffeur and, holding a pistol, say, "I think I killed somebody." Or, did the Brazilian chauffeur with a tenuous grasp of English actually mishear Spector saying, "I think you should call somebody"? 
Mamet captures the difficulty in discerning truth from fact, even when (or especially when) a case has a mountain of forensic evidence to parse. Unlike latter day Law & Order or CSI, there's a feeling here that establishing guilt or innocence is a lot more complicated than indexing fragments of brain and skull. And a profound melancholy permeates the film: the feeling that a man who gave the world incredible beauty through years of revolutionary music ultimately created a situation, even if he didn't actually pull the trigger, to hang himself. Every Christmas when I listen to his 1963 masterpiece A Christmas Gift To You From Phil Spector, I'm struck by his heartfelt recorded message at the end to his listeners. Here was a mind at that point uncluttered by drugs but probably already afflicted with the fears and insecurities — about his masculinity, his relationship to women, his elusive quest for "perfection"— that would doom him. Pacino, for his part, underneath the Afro wigs, still conveys some of that sensitivity that came through in Spector's early work, especially in an early scene when he covers his lawyer, played by Mirren, with a blanket to protect her from the chill. There's a gentleness there that belies the ferocity that comes out at other moments, like when he talks about how he thinks the world should view Clarkson's death as meaningless compared to the deaths of truly great individuals, like his friend John Lennon.
Phil Spector also suggests how little we appreciate the people who create pop culture behind the scenes. By default we're more likely to be on the side of O.J. Simpson when he's charged with murder — at first, anyway— because he ran through airports in Avis commercials, won the Heisman Trophy, and starred in The Towering Inferno. Michael Jackson could have supporters ready to release a white dove for each charge of which he was aquitted at his molestation trial. But Spector? He'll have people standing outside supposedly supporting him with cries of "Back to Mono!" who then throw blood — "The blood of Lana Clarkson!" — on him. Unfortunately, Mamet doesn't explore the different relationship between pop culture consumers and its behind the scenes creators as much as he could. Instead, he tries to set up a tired generation-gap theory for the negative backlash against the producer. There's a really out-of-place and silly scene near the beginning where he introduces the idea that young people today don't even know what 45 rpm records are, so how could they believe in Spector?
Despite those flaws, Mamet's take on Spector's descent ultimately works because of the underlying sadness that suffuses it. This isn't just a sensationalistic tale of the "dark side of genius," but the depiction of a terrible tragedy for everyone involved. And actually, with its combination of pop music, celebrity, and guns, it's a uniquely American tragedy.
Did you watch Phil Spector last night? And what was your take?
Follow Christian Blauvelt on Twitter @Ctblauvelt
[Photo Credit: HBO]
---
You Might Also Like:


Topanga's Revealing Lingerie Shoot: Hello '90s!


13 Most WTF Fan Tributes