'Vampire Diaries' Recap: Tainted Love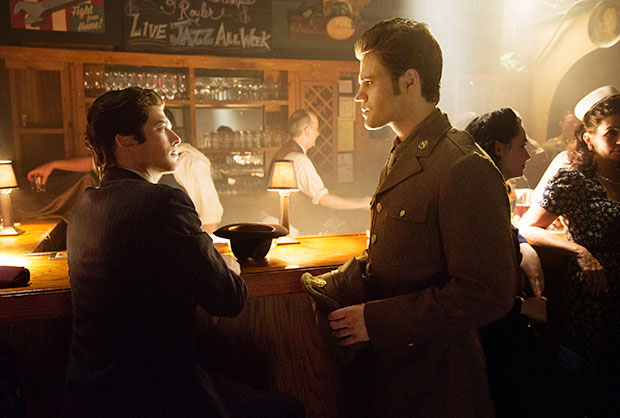 That was a close one.
Last week, The Vampire Diaries threatened to lose the credibility of its series-long love triangle by explaining away Elena's newly-expressed love for Damon as the baby vamp being sired to her new beau. If Stefan and Caroline's hair-brained theory about Elena falling in love with Damon because her blood bond told her to was correct, the plot twist would have undermined three seasons of building desire between them. Luckily, the sire-bond plot thickened in a good way.
As it turns out, Elena is sired. But, it's not so bad. When it comes to vampires, siring only affects the minion's decisions, not their feelings. In fact, the only way a young vampire is sired to an older one is if they are in love with their agent of change before taking their final mortal breath. Unfortunately for Stefan, that means Elena really does love Damon, even if it's annoying that she agrees with every little thing he asks her to do, including to digest or not to digest blood that doesn't come straight from the vein.
But it's still a problem, and a perplexing one at that. We're all aware of the effects of puppy love, but could you imagine if that power of coercion lasted long past the honeymoon period? It'd be a relationship straight out of the middle ages. But beyond the anti-feminist elements of a relationship complicated by a sire bond is the potentially dangerous consequence: when a master tells his minion to do anything, she does it, even if he was being sarcastic. Obviously, for a sarcastic bastard like Damon, this is going to be a problem.
In fact, when Damon and Stefan go to New Orleans to find a witch who may be able to reverse the sire bond with a spell, Damon remembers back to the first girl he sired: Maggie from The Nanny. He left her to watch over his drink, telling her to show no mercy to anyone who took his drink and she ends up killing some dope who elbows Damon's scotch. She's basically a loaded weapon in addition to being one of those girls who'll do anything her boyfriend asks her to, whether she likes it or not.
Naturally, Damon is committed to reversing the sire bond. He doesn't want the girl he loves to be a drone and he certainly doesn't want her committing any more murders (like Connor's) because he suggests she do it. Unfortunately, when Damon and Stefan find the daughter of the witch Damon enlisted '40s for the un-siring deed, she tells them that the reason her mother skipped out on them all those years ago is because she needed the spell's requisite 12 person sacrifice for another spell she was working on and figured it was convenient. There isn't a spell to reverse the sire bond, all Damon can do is tell Elena he doesn't want her anymore, like an impossibly beautiful Old Yeller.
After flashing back to the '40s, when Damon sacrificed his own happiness to let Stefan have the space he needed to curb his ripper side, Damon knows he's got to do right by his brother and Elena and let her go. The problem is that while Elena is swayed by Damon's power of suggestion, she's not an idiot and her love is real. And she just spent her entire night justifying her love for Damon to an uppity blonde vampire who's hell bent on getting Elena back together with Stefan. (It's Caroline.) Elena's not about to let Damon just walk out on her. She knows her feelings are real.
As Damon prepares to break both their hearts, she grabs his hand and puts it on her heart as she puts her hand on his face. "Does this feel wrong?" she says. Of course he doesn't think it feels wrong. It feels amazing. After watching these two kiss away their blissful (sexy) morning, it's clear that it feels completely right for them to be touching each other so tenderly. Damon says this decision is for her; he can't be selfish with her. All it takes is Elena's touch to change his mind.
But does it have to be this way? Sire bond or nothing? What if Damon told Elena not to blindly obey everything he says and to make her decisions for herself? Wouldn't that count as a command that she'd be forced to carry out and thus eliminate all further commands? Or is Elena forced to remain a drone for Damon, tainting all that's great about their coupling?
Unfortunately, that question won't be answered until next week. But this week, we finally got a few answers about Professor Shane. Bonnie is seriously mooning over her spirit guide, but his evil plan is starting to reveal itself to us. Haley visits Shane to tell him their 12th hybrid isn't finishing the conversion, and he says he wants Tyler, but she won't do it. Shane threatens to without the information he has about her parents unless she comes back with 12 unsired hybrids. It's likely no small coincidence that Shane calls his alternate form of magic the same thing the voodoo woman from New Orleans called her dark magic: Expression. And it's no smaller coincidence that they need 12 hybrids. That's the same number of humans the witch asked Damon for, when she betrayed him in order to complete a different spell than the one he was after. We're not sure why Shane needs these 12 unsired hybrids to complete his vampire hunter map plan, and Damon gives no indication of the fleeing witch needed her 12 humans for all those years ago, so this is clearly one of those mysteries we'll be chasing for at least another week.
But those mysteries aren't the biggest head-scratchers. When Tyler and Haley are working to unsire hybrids, one starts to lose his resolve. Another hybrid pushes back on Tyler, saying Tyler's becoming just like Klaus. It's a notion that doesn't go away quickly or easily. In fact, when the defiant hybrids capture Caroline as a means of revenge, Tyler puts his hand in one wolf's chest, seconds from killing her unless she agrees to follow him resolutely. Obviously, he knows best when it comes to breaking the sire bond, but does he need to be their Klaus surrogate? Isn't that just as awful? Even so, it's a little fun letting Tyler become dark Tyler again. One can only take so much impossibly mushy stuff for so long.
Do you think there's a way for Damon to keep his relationship and rid Elena of her sire bond?
Follow Kelsea on Twitter @KelseaStahler
[Photo Credit: CW]
More:
'Vampire Diaries' Recap: Somebody That I Used to Know
'Vampire Diaries' Recap: Is This The End?
'Vampire Diaries' Recap: Killing Time

Shakira Shares First Snapshot of Baby Boy in Ultrasound (PHOTO)

Demi Moore Caught Dirty Dancing Next to Lenny Kravitz, Making Out With Rumored New Beau in Miami (PHOTOS)